Chris Kornman's recent supply chain article published in the Royal Newsletter could not have been more timely for me. His observations resonated with my own experiences from a recent trip to Guatemala.
As Chris explained, coffee milling and exporting services are often separate from farm operations. This is common for many of Royal's Guatemalan coffee offerings.  
CAMEC: The Exporter
For example, dried parchment from Finca Injertal, Finca Huixoc, Finca Limonar, and Antigua Los Volcanes are all received at a mill and export company in Guatemala City called CAMEC (Casa Agricola Mercantil y Exportación de Café), a family owned business established in the 1950s. Royal has a long history working with CAMEC.
On my visit, I learned a great deal more about the special relationships CAMEC has with producers, which, in many cases, span several generations. In Guatemala City, CAMEC cofounder, Wolfgang Godecke, showed me the warehouse and dry mill at Santa Isabel. CAMEC is taking every extra opportunity to classify coffee before export to maintain quality.
Mild weather in Guatemala City provides ideal conditions for storing parchment in the warehouse. The dry mill was clean and well organized. Santa Isabel is equipped with multiple pieces of equipment to sort green coffee typical in most dry mills, such as gravity beds, screens, and electronic eyes. The mill also has a piece of equipment called a catadora, located immediately after the dehuller, which operates like a wind channel to remove broken and less dense coffee beans.
While visiting Santa Isabel, CAMEC was preparing a container bound for Royal's Oakland warehouse. Wolfgang delighted in showing me the low-tech trick used to place the Grainpro bag in the jute bag. While it was a chance to have a little fun with me, it also illustrated how all the little details matter at San Isabel. No doubt, the efforts at the dry mill deserve credit for protecting the quality of exported coffee.
Reaching the Producer
As Chris explains in his supply chain article, an export company is often the best conduit to producer information. CAMEC is an excellent facilitator for maintaining traceability back to the farm, which means I can pick up the phone and call Kia Godecke (Wolfgang's son) whenever I need information or want to connect with a producer. On this trip, I wanted to learn more about Finca Huixoc and Finca Injertal, which are in the department of Huehuetenango.
Jose Olivio Chavez originally established a much larger estate in the 1940s that he later divided into pieces for each of his three children. Today, the responsibly for managing Finca Huixoc and Finca Injertal, rests with Jose's grandsons, Jose Alejandro Solis Chavez (Alejandro).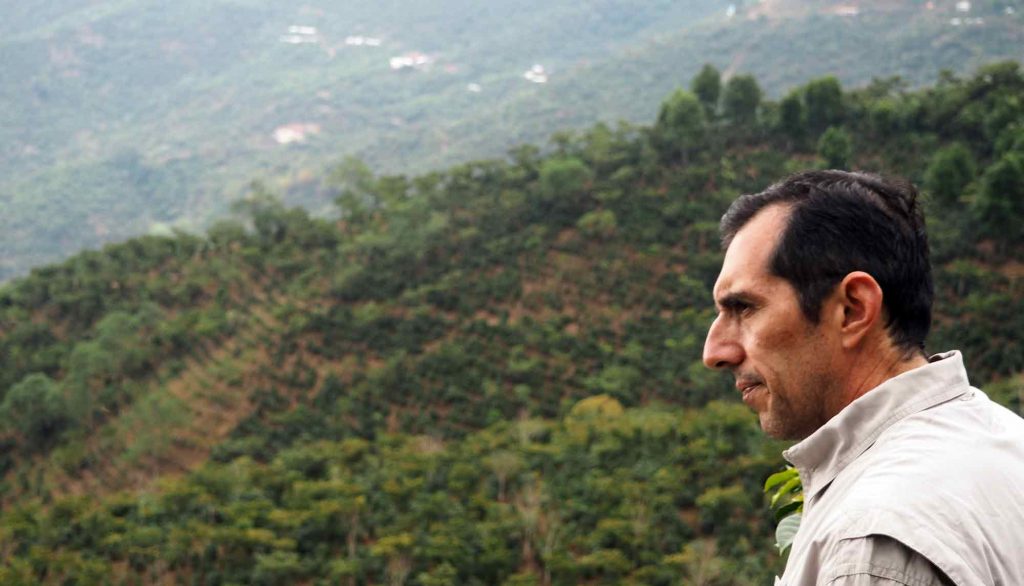 Finca Huixoc is a 320-acre estate split evenly between the municipalities of San Pedro Necta and La Democracia. Finca Injertal is a 270-acre estate located in the municipality of La Democracia. Both estates have coffee plants cultivated between 1300 and 1700 meters above sea level. Each estate operates independently with separate wet-mills, drying patios, and work force. However, Alejandro follows the same farm management strategies on both estates. Both estates are Rainforest Alliance certified.  
Learning the Details
For the last several years most of Alejandro's efforts have been focused on farm renovation where he has taken an aggressive approach to recover from several years of severe leaf rust damage on both estates. Alejandro has increased his regular renovation plan of 5 percent of the estates per year to 8 percent per year.
The efforts start in the nursery where Alejandro has invested in new technology he calls tubitos (plastic tubes) to grow seedling. The tubs are specially designed to be long enough to support a longer root-stem, which means a stronger plant when it is time to transplant into the ground. Unlike the traditional plastic bags, the tubitos are reusable and work well with organic compost made from coffee pulp. Alejandro is planting several different varietals (including ANACAFE 14- Pacamara/Sachimor hybrid).
As he renovates, Alejandro is replanting with wider spacing between rows and terracing the hillsides.  He is also planting cover crops between rows to help fix nutrients in the soil. Yields are currently around 2200 pounds of parchment per hectare. Alejandro believes he needs to increase yields to around 3000 pounds per hectare for his efforts to payoff and reach sustainability. In addition to leaf rust damage, the yields over the last two years have been reduced by record low rainfall, which has caused about 5 percent crop loss because the cherry dehydrates on the tree before it can fully mature.
Making it Special
Alejandro's unshakable drive to renovate these estates might come from his responsibility to preserve and improve upon what his grandfather left him. But I think even more of his drive to renovate comes from his responsibility to the families who have worked on the estates alongside his family over the generations. This was most evident when I visited the school that Alejandro's grandfather established.
For more space, Alejandro moved the school to his aunt's house at Finca Injertal after she passed away.  Today, the school has three classrooms, two full time teachers, and 33 students in 4 grades. Alejandro is very proud of the quality of education the school provides and he could hardly contain himself when he talked about the children who participated in a national reading competition sponsored by FunCafe.
There is culture of learning on the estates that goes beyond the classroom. AnaCafe (Guatemala's National Coffee organization) has open access to both estates to conduct research. Alejandro also makes a point of having monthly seminars on conservation so that the families working and living at and around the estates can actively participate in protecting the natural resources.
I am always grateful when I can experience firsthand how lasting relationships at various points in the supply chain ensure quality coffee supplies reach their destination conveying the value created by everyone along the way.
Enjoy the coffee!