Editor's Note:
This article was first published in mymarketable.blogspot.com. The article is being republished here with the permission of Liliana Sánchez, founder of MarketAble Trade & Development. Liliana lives in Honduras and helps connect coffee producers with roasters. She is a personal friend to Mayra and an advocate of all things Catracha, and her article beautifully captures her experience in Santa Elena. Thank you for writing it down for the rest of us to read!
I just got back from Santa Elena, La Paz. I still feel in a daze from the endless lessons on building a community I received while there – truthfully, genuinely, building a community.
My friend and constant inspiration, Mayra Orellana-Powell invited me to be a part of the third Annual Youth Conference that Catracha organizes as a way to continue building her community. Along with her husband Lowell Powell, she created Catracha Coffee, a social enterprise that seeks to connect small farmers in Santa Elena, Honduras with the specialty coffee market. The focus of this third conference was nutrition, with workshops led by Lolita, Yolanda and Yuki; how to make cold brew coffee, led by Cathy of Zocalo Coffee; and also on art and recreation, led by Demmys, Antonio, and other teachers and volunteers from the community.
This first trip to Santa Elena had long been overdue for me. I have been inspired by the work of Mayra, Lowell and Evita (Mayra's mom), and by all that Catracha represents for years now. I have also enjoyed many cups of their locally roasted coffee… but I had not been able to make it to Santa Elena.
Santa Elena is located in western Honduras about a four and a half hour drive from Tegucigalpa, the capital of Honduras, and is very close to the border with El Salvador. I traveled there with John and Lolita, friends of Catracha Coffee and an active part of the conference, as Lolita would be leading one of the nutrition workshops for high school students. On arrival, the first thing that struck me was the bright colors and warmth of their house, which in fact is a community house where the workshops and sessions take place, and also where part of the coffee for the local market is roasted.
Many things touched and inspired me during my stay… Yet one keeps tugging at me: their art initiative.
What it is
Catracha offers an art workshop twice a week, for two hours at a time, for children between the ages of 7 and 16. Currently there is a group of 15 children participating, sometimes they have had up to 28 children participating. Some of the kids are from Santa Elena but others come from nearby communities, walking 30 to 40 minutes to be able to attend the workshops.
How it works
The art workshop takes place in the art studio area at the Catracha house. Here, Demmys and Antonio, two young Hondurans with amazing talent as artists, illustrators, muralists, graphic designers and video and audio editors, lead the workshops with the children, using different materials and techniques. They have taught the children about form, color theory, texture, and they have done activities such as origami and kite making.
During my stay in Santa Elena, I saw the group of children proudly prepare their artwork for their first exhibition, to be held during the Youth Conference at Santa Elena's ¨Casa de la Cultura¨ (Culture House).
The exhibition of the artwork was a beautiful sight. (Please visit Market.Able IG stories for a video) You could see the pride in the children's faces and it was also extremely touching to see the reaction of the community to the art exhibit. For many of the adults there, this was perhaps their first experience admiring artwork such as paintings, pastels, portraits or even abstract art. A Lenca (ethnic group from the west of Honduras) lady approached the exhibit expressing her interest in the acrylic painting of a horse. The young artist was very proud to see how another person had found beauty in his work.
Parallel to the Art Exhibit, during the Youth Conference, Demmys and Antonio also led a workshop at the Casa de la Cultura using a traditional Lenca mask, used in a traditional dance, as the central theme. The workshop, open to all the children that came to Youth Conference, was a beautiful exercise in creativity, collaboration, culture and identity.
Why it is important
Numerous studies have proved the strong correlation between art and the development of children.
Art influences a child's development in many areas such as:
Personal: a means to express creativity

Social: working together in projects, collaboration

Physical: fine motor skills

Communication Skills: a child learns to describe his/her work

Cognitive: many studies have shown that children that are exposed to art do better in other subjects such as math or science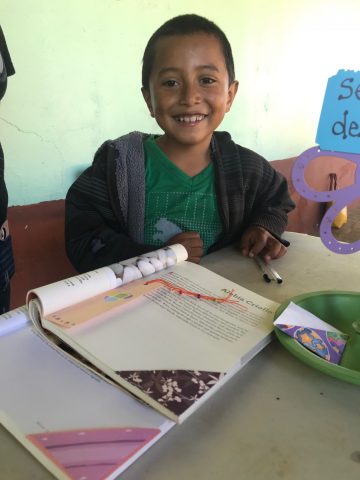 From what I saw in Santa Elena, art is also an important medium for conserving traditions and motivating the younger generations to feel proud of their roots and customs.
How can we get involved and become a part of this amazing community and their artistic efforts?
Let's get organized and send Catracha Coffee art supplies so that they can continue working with these children. A beautiful example of community and collaboration is the way Zocalo got involved with their customers and sent supplies to Catracha with Cathy who visited and held a workshop on Cold brew during the conference. Examples of supplies include pastels, colored pencils, brushes, canvas, pencils, acrylic paints, etc.

Let's attend and promote their art exhibits, and let's support these growing artists by acquiring their work

Let's continue buying the delicious Catracha Coffee, both in Honduras and abroad.
The final day the workshop I ended up playing Rayuela (hopscotch) with a group of kids that are part of the art workshop at Catracha. During a quick break to catch my breath, I asked them what making art meant to them. These were the words they shared with me:
Learning

Knowing that with practice they will become better

Joy

Love

Excitement
Follow Catracha Coffee and Catracha Colectivo to learn more of how you can become a part of this  amazing community. Check our Instagram Stories at Market.Able for videos of the Youth Conference.