I recently returned from a trip to Sulawesi with the Consulate General of Indonesia, where we visited coffee production areas and gained further understanding of the supply chain and current issues facing coffee producers. Read on to learn more about this unique production area in Indonesia, and the sorts of developments happening right now.
Arriving in Makassar
After a good many hours on flights we arrived in Makassar, an Indonesian port city on the southern tip of Sulawesi. While Makassar is the largest city in Eastern Indonesia, the hustle and bustle isn't to the same degree you'd find in Jakarta or Surabaya. Nursiani Syarief and Rizka Pravitianasari from the Consulate General of Indonesia San Francisco met us at arrivals and ferried us away to have some of Makassar's famous seafood. Kepiting Saus Padang (crab with Padang chili sauce), Palumara Ulu Juku (Makassar style fish head soup), and Ikan Goreng Sambal (fried fish with chili sauce). I've included links to recipes throughout this article in case you'd like to taste along…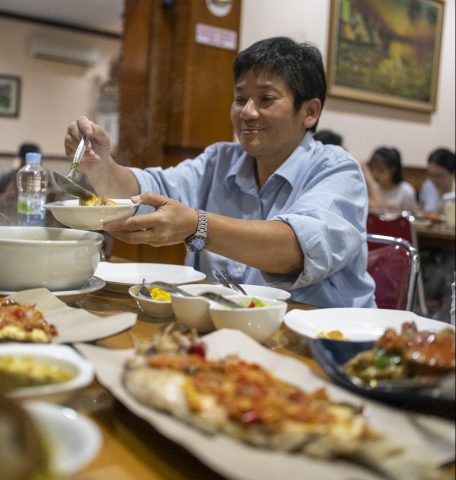 Off to Palopo
The jet lag was merciful, and we woke the next morning to head back to the airport and fly off to Palopo, after which we would drive just a few more hours into Rantepao. The usual route takes about 9 hours by car, so this flight saved us a half days' time. When we arrived in Palopo, we were introduced to Markus, who would be our guide for the trip, and Boy, who was our driver from end to end. They greeted us with the traditional local snack, Deppa Tori, which is a sweet, fried dough that has been imbued with palm sugar and topped with sesame seeds. Not much to look at to be sure, but super delicious! Kevin, Corazon, and I ate more than we thought we would. Another flavor to add to our tasting notes.
Toraja!
That evening we visited the sites of two of Toraja's notable attractions; the traditional tombs of the Toraja people at Lemo, and one of the region's newer attractions, Patung Yesus Buntu Burake, a giant statue of Jesus at Mount Burake. We got there just in time for sunset, and our trip began in earnest with a beautiful view.
Indonesia, much like the United States, believes in Unity in Diversity – that's the literal translation of their official national motto "Bhinneka Tunggal Ika." While being an essential part of Indonesia, Sulawesi in general and Toraja in particular are incredibly unique. While Toraja is mostly Christian, the Torajan people also retain some of the pre-Christian indigenous beliefs called Aluk. You can read more about Torajan people here if you'd like a deep-dive.
Right afterward, we headed down to Makale to meet the Assistant Regent of Toraja Regency, Victor Datuan Batara, for a formal introduction to the region. We were greeted with traditional wear and learned more about the hard numbers behind coffee production in Toraja from the Assistant Regent himself, as well as from the heads of agriculture and tourism for Toraja Regency. For all of you out there that enjoy facts and figures, you'll like to know that Toraja Regency has:
8,696 hectares of arabica
1,690 hectares of robusta
13,289 smallholder farmers
While we didn't get the hard numbers for the neighboring regency of Toraja Utara, these helped us to understand the relative productivity of this area. Toraja generally has a bit more rain than desirable for coffee production, but the rains are late this year. Many people believe this to be a good sign, and a side benefit is that most coffee has been able to ripen completely, and to be dried properly due to the lack of rain. Thank you to the Assistant Regent and the Government of Toraja Regency for the warm welcome!
Why yes, that is me wearing traditional Torajan clothing.
A Visit to Sulotco
The very next morning, we headed to our first proper coffee visit at PT Sulotco Jaya Abadi. My previous trip to this area led me to believe that our drive from Rantepao would be much longer. The roads in Toraja have improved considerably since my first visit in 2014, when it took roughly five hours to get to Sulotco's processing facility in Bolokan.
The roads aren't the only thing that's improved in this area. Sulotco has made a sizeable investment in their processing facility here and added more storage, more milling machines, and more drying tables. They have also added a few interesting programs to their lineup including an animal husbandry program (mostly goats for producing organic fertilizer), an owl breeding program (to protect against pests), and 10 experimental plots to investigate which coffees varieties grow best in this area of Toraja.
Sulotco is a subsidiary of a much larger company, Kapal Api Global, which supplies Indonesia with all sorts of products from beverages to cookies and candy. Kapal Api was first known for coffee, however, and is a familiar name to many people in Indonesia as the coffee they drank staying up late for exams in high school and college. Despite having their hands in the cookie jar, they seem to know what people in different markets around the world are looking for, and they are diversifying their processing techniques to include Natural/Dry Process coffee in the near future. Not only that, they seemed very open to exploring smaller lots – either from their test plots or by building day lots from specific areas.
Back in 2014, this processing facility was the first I visited in Indonesia that had raised, covered drying beds. During my first visit, I was also enthusiastic that they produce mostly washed coffee – though they do produce wet hulled coffee as well.
Our hosts at Sulotco were very gracious and set up a great cupping for us to taste through. We tasted their washed, wet hulled, and natural offerings from both the estate surrounding the mill and from the greater Rantekarua area. A special thanks to Agnes, Teresa, Imanuel, and Samuel for the incredibly informative tour!
Afterwards, we headed towards Makale and to a funeral that was in its third day. Traditionally, funerals in Toraja last around a week, but preparations may take more than a year. Some take even longer. Meanwhile, the body lies in state at home. A tongkonan (traditional house) is constructed for the deceased, and an entire pavilion around the cluster of family buildings is built just for the guests at the funeral. Certain places in the pavilion are reserved for specific people: there is a large seating area for guests from outside the community, an entire separate building for local government officials and people of generally high rank, and the bases of the tongkonan themselves are reserved for close family members.
During our brief visit we were shepherded to the guest building, and given coffee, tea, and cakes. While we sat, people from the community came and went, taking meat from recently sacrificed water buffalo, and greeting the family of the deceased. The main event while we were there was a very specific song being sung by the men of the extended family. They sang hand in hand, all gathered in a large circle, and the gathering grew quieter to listen to them.
It was nearly sunset by this point, and we started to head off to our next engagement at Gasing, a small village that proved to be a bit further afield than we anticipated. The road here was just a single lane and was of the same quality that I experienced five years prior. As we arrived, many people from the area gathered and joined us in a circle as we were plied with what was (in my humble opinion) the best 'guest coffee' of our trip. We also got to taste a local confections called baje bandong and tenteng malino (coconut and sugar wrapped in corn husk, and a type of peanut brittle).  It seemed like the whole town came out to greet us, and the excitement was palpable.
The main concern of the folks at Gasing is of course getting good prices for their coffee. While they have been getting fair prices from the people who purchase their wet parchment, they are also aware that neighboring communities' coffees are being lumped in with their own and sold under the name of more famous locales or simply 'Toraja'. So, another concern of theirs is having their coffee lumped in with many others without being given the credit for its origin. To collectors, coffee from Gasing is simply known as a high-quality blend component, and that's where the credit stops. They are currently working with a local farmers' cooperative that is planning to market their coffee as its own origin, rather than selling their coffee on to a collector. Certainly a step in the right direction!
A Visit to Toarco
We made our way back to the hotel, winding our way down the one-car road in the dark. The next morning, we visited one of the well-known processing facilities in Toraja, PT Toarco Jaya. Quite a few things had changed here since my last visit, including the installation of more Guardiola driers and more covered patios for drying coffee. We were shown the entire process of receiving and processing cherry by their facilities manager Andrius, who had the most concise and clear Bahasa Indonesia I have ever heard. While Toarco Jaya does process a limited amount of cherry from their surrounding Pedamaran plantation, the vast majority of their coffee comes from all around Toraja Utara, from Pulu'-Pulu in the north to Rantebua in the south.
Their quality control is legendary. For parchment not from their plantation, they cup on delivery to their Rantepao station near the Bolu Market, and either accept or refuse lots there. Then the coffee is transported to their Pedamaran facility for hulling and grading. Afterwards, the coffee is hand picked. During hand picking, a sample is taken for each 10kg portion to make sure quality standards are met. If it passes muster the coffee is bagged, and for every 5 bags a distributed sample is taken and cupped for final approval. The result is an extremely clean coffee that has been cupped for consistency multiple times before samples are even sent for approval.
I was surprised to learn that 90% of their coffee goes to directly to Japan. Toarco Jaya is keen to expand their presence around the world, but their current market is very solidly in Japan. If you're interested, get a hold of your trader for samples!
Visiting PPKT
Our next visit was to a local farmers' organization. PPKT or Perhimpunan Petani Kopi Toraja (Coffee Farmers' Assembly of Toraja) is one of the largest of these organizations in Toraja Utara. They source coffee from many different UPH (Unit Pengolahan Hasil / 'Processing Unit' – the smallest section of the supply chain without getting down to individual smallholder farmers) in order to fill the needs of customers, and sometimes even work with Sulotco's member farmers. Currently, almost all the coffee they collect has been purchased domestically, but they are looking to expand to international exports soon. This is the very same farmers' organization that Gasing works with to get their coffee marketed as a specific origin, so with any luck you'll see Gasing's coffee marketed as their own in the coming years. Thomas Upping and his quality control crew set up a very nice cupping for us that included Gasing, as well as a few other local farmers' groups.
That evening we took it easy, as the next morning we planned to watch the sun rise from the top of a mountain overlooking the central valley of Toraja Utara. This was to be our last day in Toraja.
We paid a visit to the traditional market, Pasar Bolu after a short rest. Here you can buy anything from ballo (the local palm wine) to tedong (water buffalo). In fact, this market is famous mostly as a water buffalo market. Water buffalo are the default form of currency in Torajan society and the market was bustling with buyers and sellers; safe to say that it was a bull market.
We took the long way back to Rantepao, and saw the view from Batutumonga, where we ate lunch. A few local delicacies here – red rice, chicken sate, and the classic pa'piong: minced chicken, banana stem, coconut, lime leaf, and basil packed into a bamboo tube and cooked for hours over an open fire.
We followed up our feast with a little ballo, which to my palate is the best palm wine in Indonesia. It's important to get the freshest one available, and to buy it in the morning, or you'll find yourself with a very vinegary beverage.
Afterwards, we paid a visit to some old friends of mine at the Hotel Pison, Evi and Eli Pongrekun. They have expanded their café, and are still roasting on Pak Eli's homemade waterwheel-powered roaster. You can read about my first visit to Toraja here on Sprudge. Their coffee is from Evi's hometown of Awan, and it's delicious.
Although our stay was brief, I believe we all learned a great deal about Sulawesi during this trip. The regional differences were very apparent to all of us, especially as we made our way back to Makassar by car. As we moved down the valley and into the lowlands along the coast, the scenery changed just as swiftly as the temperature. Kevin, Corazon, Rizka, Nursiani, and our guides Markus and Boy conversed as we fought off drowsiness, recalling the notable people we met and coffees we tasted. As we parted ways at the Makassar airport, I couldn't help but hope that we could travel together again!
Many thanks especially to Rizka Pravitianasari and Nursiani Syarief of the Consulate General of Indonesia for making this trip a reality, and introducing us to new people!