I'll be honest – I was nervous about reopening the Tasting Room.  
Of course, I had good reason. The pandemic was (and is still) in full swing – in fact cases in the Bay Area are on an upswing. Our block of Broadway has also been the stage for some of the biggest protests against police violence in Oakland. Uptown is a rapidly changing neighborhood, and while I missed our regular customers, I wondered how many of them would still be coming by our relatively non-essential shop. 
Closing was a sudden decision, made in the dead of night the week before Alameda County issued its Shelter in Place order.  For the next three months, our baristas worked from home on all kinds of projects that mostly had nothing to do with brewing coffee. Each of them is highly trained in coffee extraction and brewing, but they stepped up to exercise their writing, filming, editing, content creation, and research skills. The results were astonishing: Royal now has a comprehensive coffee glossary; we've posted recipes for every shrub, soda and signature beverage the Crown has ever made; we made recipe videos and experimented with brew devices; and we learned about home roasters. All of this done – not from behind an espresso machine, the barista's natural habitat – but from ad hoc home offices on borrowed or personal computers.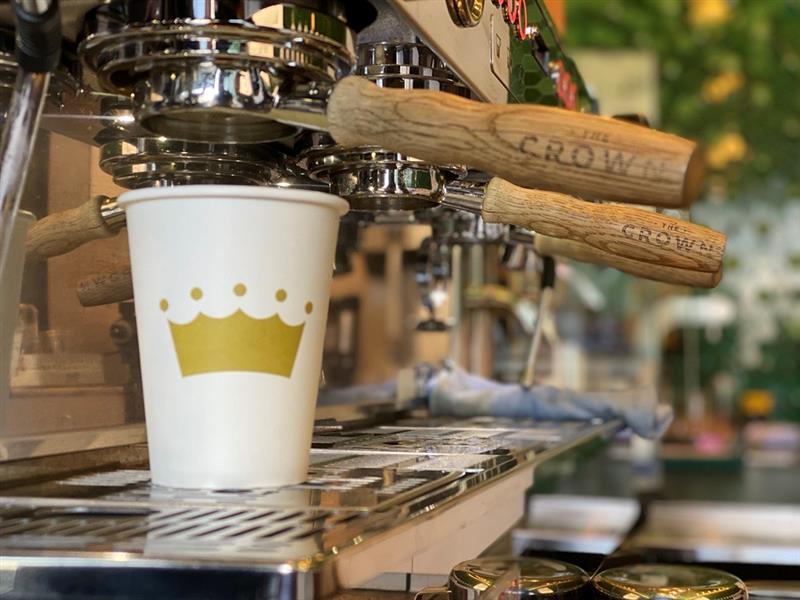 The thing is, The Crown has always been more than just a tasting room. Our baristas are trained in green coffee analysis, they do sample roasting, and they support every step of our Crown Jewel Analysis – all while consistently brewing and serving the best dang coffee out there. If we're looking for silver linings, closing the Tasting Room for three months gave us time to invest in these skills and build out the digital presence of The Crown, bringing our knowledge to the global stage through our website.  
One of our highest priorities is serving the coffee community, which includes the breadth of Royal Coffee's supply chain.  We've been able to invest in our industry despite the pandemic through webinars, on-demand courses, and remote live events. But Royal Coffee is a proud Bay Area company, and though our span is global, The Crown was intended to be a hub for the physical community of Oakland. At the end of the day, we missed making coffee for our friends and neighbors.  
Reopening during a pandemic is fraught with challenges. How do we safely bring people who have been isolating for months back together? How can we serve the public while keeping ourselves safe?  
But we know one thing for sure: a cup of coffee can brighten anyone's day. Each interaction, each sip, has the potential to lift spirits and spread cheer. Oakland needs that right now. 
 Of course, we're not the only ones facing the unique challenges of offering drinks and hospitality in this new, socially-distanced reality – our block is full of innovative neighbors like Friends and Family, Shawarmaji, Popoca, and The Good Hop who have all managed to make impeccable service and delicious fare work under unforeseen circumstances. We also have the guidance of our own industry, who has spent the last several months re-evaluating the value of front-line workers and addressing the racial injustice baked into our industry from seed to cup.  
We've had to make big changes. The Tasting Room has limited service hours (Friday, Saturday, and Sunday 9am-3pm), and we won't be allowing customers into the building for the foreseeable future. We've started selling 1lb bags of green coffee out the door and are building content for seasoned and first-time home roasters. It's a time of transformation, and we're looking forward to being part of the reinvigoration and blossoming of a new and more equitable service and coffee industry.  
We're still figuring out the best way to navigate this new reality, and it often means making tough choices. For example: we are a company that is trying to eliminate single use plastic, but had to make the switch to to-go only to protect our staff. Refusing cash transactions inherently limits access and highlights the classist and racist systems at play in our society, but we're now requiring credit card or contactless payment to keep our employees and customers safe. We're learning how to best to take on the role of safety enforcer while still providing excellent customer service. Navigating these issues means compromising on some things and making systematic changes for others. We're learning and adapting more everyday, along with the rest of the service industry.  
Despite all this, being open has been an overwhelmingly positive experience. Our community welcomed us back with open arms, and our first weekend back saw regular customers showering us with love, telling us how much they missed our drinks and our faces – even if these were still hidden behind masks. Many of the buildings that had been under construction on our block are now finished, and new neighbors are discovering us every day. The coffee is as delicious as ever, and although we simplified our menu just slightly, we're already working on getting new coffees and drinks on there.  
If you do come visit our Tasting Room (and I hope you do!) we have some new protocols in place: 
Masks are required at all times. 

 

Only one party (max 2 people) is allowed in the vestibule at a time. Please make room for others as you place your orders or pick up your drinks. 

 

Maintain safe distance with fellow customers at all times

.

 

All drinks are served to go. If you need cream and sugar, just let the barista know!

 

If you're experiencing or presenting symptoms consistent with COVID-19, please stay home.

 
Most importantly, remember that while working in customer service is always challenging, doing so during a global pandemic is particularly fatiguing. Please tip generously and be kind.   
To be honest, there are still days when I'm nervous about the Tasting Room. We're all figuring out what it means to be in sheltering in place for this long and there are daily reminders fact that we are still, in fact, in the middle of a (worsening) pandemic. Most days though, this tension is eased by how much we're enjoying making coffee again. Seeing customers and hearing that they've been following our exploits online has been extremely uplifting. So please, come visit us in either our digital or physical spaces! We would love to make you a cup of delicious brew or point you towards our latest article. Just make sure you're staying safe and wearing a mask.