Royal Coffee recently took a trip to Ethiopia, where we met with various exporters and producers, and explored the country from bustling Addis Ababa to remote Gedeb. We visited the production facilities that have brought us such wonderful Ethiopian coffee over the years, and our customers were able to shake the hands of the people behind the scenes in this coffee origin of origins.
Presently, I'm sitting in our Emeryville offices, thinking back on the time we spent in this storied country. This was my first trip to Ethiopia as well as my first trip to Africa, so the impression it made on me was strong. For a place with a deep history where people have lived and worked for millennia, Ethiopia was to my eye a place of new development and swift change. This is something I'm sure many people have noticed throughout the world in the last few years. Wherever I have traveled, either internationally or just stateside, I encounter growing metropolises bristling with cranes and quills of scaffolding. Ethiopia was certainly no different, and my immediate impression was one of awe at stark contrast; a foreground of goat-induced dust clouds, a horizon of half-baked skyscrapers.
The color palette of Addis was straight out of a cheerier 1970s: deep reddish browns, bright yellows, and the occasional lime green accent. To my cupper's nose a familiar smell of wood smoke imbued the air, though it was somewhat different than Sumatra, which was my closest point of reference. Max and Haile (our man on the ground in Ethiopia) were there waiting for us at the doors of Addis Ababa Bole International Airport, and got us a cab into the city. Exhausted after our multi-day transit, we retreated to our rooms.
Sitting jet-lagged in my room, I thought back to my long flights and layovers. I wasn't sure why I ordered the lentil soup for lunch (or was it dinner?) in Frankfurt. I was about to get a lifetime's worth of lentils in the next week, though I suppose I had no way of knowing that they would be far more delicious than any airport lentil…
The Trip Begins
Our first true day was spent getting adjusted to local time, and visiting the large milling facilities at Mullege PLC. As we drove through the gate, the unmistakable smell of green coffee wafted through the air. Our excitement grew, palpably. Mahabub, the General Manager and Yisehak, International Business Executive, gave us an incredible tour of one of their facilities, which include a dry milling line that can move multiple containers per day. Aside from milling, extensive sorting happens here. Coffee is sorted by density, screen size, color, and finally by hand. Mullege brings in coffee from all over Ethiopia, and prepares it for export at their milling facilities – theirs is a very large-scale operation. To give you a feeling for the place: the silo control center looks like HAL 9000, but perhaps a little more benign. You need something this powerful when you're able to produce 220 tons daily. Thank heavens it doesn't have a mind of its own.
After a cupping various type samples with Mullege's thorough QC team, Mahabub took us to a Yemeni restaurant that will always hold a dear place on my tongue, in my stomach, and in my heart. Each person had a small cup of bright orange spiced soup placed in front of them, and soon huge pieces of freshly baked flatbread came alongside hummus, roasty baba ghanoush, and a refreshing tomato and cucumber salad. I thought this was the entire meal, but boy was I mistaken. Racks of roasted lamb completely lacking in gaminess, falling off the bone, and boiling pots of tomato-based soup called saltah graced our tables and faces soon afterwards. Sincerely, this was one of the best meals of my life.
As I wallowed in my food coma, I thought about how much knowledge and experience has been exchanged between Yemen and Ethiopia over the years, assuredly changing each other's cultures. Yet their cuisines remain distinct, perhaps as distinct as their coffees. As a staple dish, malawah flat bread is as different from injera as you can get. Delicious and flaky, it retains some of the toasty notes of the oven in which it was baked, and pairs wonderfully with the sweetly spiced lamb; injera is tart and bubbly, perfectly designed to soak up the berbere-spiced sauces that make Ethiopian food so deliciously adventuresome. And Yemeni coffee couldn't be more different from Ethiopian coffee, with its ethereal spiced fruit notes in stark counterpoint to Ethiopia's bright, tart fruitiness. Speaking of coffee, that would be just the thing to get me out of the food coma that had my mind wandering so far off track.
After lunch, we headed to METAD Agricultural Development, where we got a brief introduction to their work from Tariku Adinew, as we would later get more granular detail from Aman Adinew at Alaka, one of their production sites in Hambela. The food coma faded as Tariku told us more about his work, and bless his heart, he took us into the sparklingly white cupping lab.
We tasted through last year's lots with their expert QC team (led by Fantu Bezabeh), as this year's harvest is quite late. The samples from METAD's various farms were still lively, however. We also had the good fortune to run into Mbula Musau, who was in Addis to give a Q Grader calibration course. Small coffee world!
This was a fine start to our trip, but we were all quite jet-lagged at this point, and went back to the hotel to rest up before dinner at the famous Yod Abyssinia Cultural Restaurant, where a set of very talented performers sang, danced, and shook through traditional songs of every region, accompanied by a narration that was surprisingly well researched and academic. As soon as I heard the narrator utter "… the masenqo is a single string spike bowed lute" I knew that someone had hired an ethnomusicologist. The food was delicious, but to be honest I was still quite full from our huge lunch. Luckily, I had a second stomach reserved just for the tart orange tej honey wine that got passed from table to table.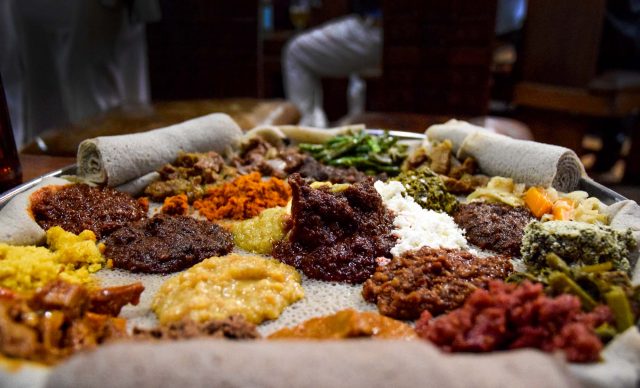 The next day we began our journey in earnest. The drive from Addis to Dilla took us most of the day, though we stopped in Yirga Alem for a break and our last reliable internet connection. On the way, we watched the scenery change from busy city streets into deserted stretches of winding asphalt, the slopes of Mount Zuqualla looming benevolently in the distance.
Punctuated by lakes Ziway, Ajibata, Langano, and Shala, the high desert scenery gave us a sense of the vastness of this country. Dry grass and a relatively paved desert highway crisscrossed by cattle eventually gave way to convoluted dirt roads, blessed by intermittent pavement oases. Once we got to Dilla during a smoky sundown, it was time for a beer and some rest.
The very next morning we were woken at sunrise by the call to prayer, and started on our trek deeper into the Gedeo zone, heading towards Yirgacheffe. At this juncture, roads became primarily pothole with a dash of gravel. The cook certainly wasn't stingy with the dust, either. We all had dreams of washing stations and drying tables playing in our heads, but they kept furtively out of our sight, somewhere off the road. Not for long.
Along the way, we were sweetly rewarded with more amazing views, and the vegetation was decidedly more lush at this point. False banana towered above the ubiquitous coffee shrubbery, houses became colorful with false brickwork paint jobs, and excitement grew. Drying beds just off the main road seemed to beckon to us with promises of sugar plum coffee..
Our first look at wet milling was at Dumerso, where groups of people were either sorting parchment by hand or helping with the washing of coffee that had just finished fermenting. Dumerso produces some exquisite coffee year after year, and generally these lots are among my personal favorites. It was a pleasant surprise that this was the first place we visited. At SCAA Expo 2015 I met Beti Birhanu, the sister of Surafel Birhanu, the fellow showing us the facility! Again, small coffee world.
There was mellow singing coming from everyone working the drying tables, and a bird lit on one of the tables long enough for me to get a shot.
We roomed at the Mahlet Hotel in Yirgacheffe, pretty much the only game in town. We were greeted with coffee (thank heavens!), and some very excellent tibs. The injera here was more like the sourdough I make at home, and was very filling. We all retreated to our rooms, sleeping and waking to the sound of the muezzin calling out for prayer.
Now for an aside:
The next morning, being the coffee geek and coffee trainer that I am, I went to see how the barista was preparing the espresso we were being served on the candyapple red lever machine he had at his disposal. What I witnessed may be common, but I had never seen anything like it. I was overjoyed to see him remove a clean portafilter, and wipe it dry with a cloth. Then, ground coffee was measured, placed in the basket, and tamped. He pulled the lever down, then released it upwards to start the extraction. It flowed slowly and evenly, a perfect shot. Everything was just splendid, so far.
Then he proceeded to prepare another shot, directly into the same cup. A quad shot! I was decidedly enthusiastic at this point, as it isn't common to find coffee ready-to-drink in a producing country. I was ready for this quad shot. Then, he steamed the espresso.
Yes, steamed espresso. It sounds like a travesty to the delicate constitution of a third-wave coffee drinker (like me, quite frankly). But the proof is in the pudding, and I'll try anything once. It really wasn't that bad, and it had extremely thick texture. The coffee didn't taste burnt, and I was intrigued. Needless to say, this is something I may try in the future..
Anyhow.
Our next few days were a rush of visiting different washing stations throughout Yirgacheffe and beyond. We had the good fortune to visit some of the places that we had heard of for so long, and our customers were happy to be able to visit some of the places where their coffee was produced. Dumerso, Hafursa, Konga, Idido, Chelelektu, and Aricha (also known as Misty Valley) were on our list, and we made it to all of them.
Hafursa, just outside of Yirgacheffe town, was our first stop the next morning and there were only a few people working. We met with YCFCU's Deputy Manager, Andualem, who told us all a little more about the coop and its members. Hafursa is one of the smaller member cooperatives in YCFCU, but it still produces nearly 800 metric tons of coffee per year. That's more than 40 containers per year – not too shabby.
We met up with Teddy of BNT Coffee to visit the next few cooperatives, Idido, Aricha, Konga, and Chelelektu. Each one of these washing stations had an intense operation going, and many years of experience under their belts. Those familiar with Ethiopian coffees will recognize all the names above, perhaps even from awards ceremonies. Chelelektu was a Good Food Awards 2015 winner; Idido won GFA awards in both 2016 & 2017. Numerous barista competitors have featured these coffees in their routines over the years. It was both overwhelming and humbling to visit these places, knowing the direct influence the people working here have had on specialty coffee.
Chelelektu was out last stop of the day, and as we pulled in to their processing area we heard beautiful singing coming from across the valley where the drying tables were situated. There were two crews of people, apparently battling for who could be loudest and the result was layers of melodious voices weaving into one another. Not another day went past on this trip where I didn't think back to this scene in Chelelektu. There's no way to state it elegantly in English, but upon research the French did it; this was the kind of moment that causes frisson.
Further Afield:
The next leg of the trip brought us as far as we would go, deep into Hambela. We took turn after turn on roads that looked like they would be decidedly dicey in the rainy season, passing droves of donkeys with bulbous bundles of fermented false banana strapped to their saddles.
We met with Aman Adinew at Alaka farm around sunset, and made a quick visit to Bishan Fugu, which was just up the road. Bishan Fugu has had a few years of very good productivity, and METAD helped to build them a community center. Previously, the community would gather under a large tree in the center of town. Rain or shine, this was the only place to meet. A new schoolhouse and large roofed congregation building made a major improvement to this situation. As Aman showed us the facilities, crowds of children began pouring in, followed by curious adults. By the time we left, there were at least 100 people there just seeing what all the hoopla was about.
We returned to the Alaka homestay, where colorful huts were provided for us to stay the night. We woke early the next morning and wandered about in Alaka's farm, seeing macaques and baboons, and reveling in the early morning light. It's an incredibly beautiful place.
After breakfast, we headed on the leg of the trip that took us farthest afield. After a short visit to Benti Nenqa we headed to Buku, the newest processing facility for METAD. In order to get here, we had to cross pits that had clearly been washed out during the rainy season, and eventually we had to walk the remainder of the distance from Buku Aban village to the processing facility due to a stream crossing the road. As we crossed a bridge made of fallen trees, the scenery opened up into a huge field. I felt like I was in the opening scene from the Sound of Music, the blues were so blue and the greens so green…
After seeing the newly installed pulper and drying tables, we walked back to the car, again followed by swarming hordes of laughing children. One set of friends, Theo and Geseo, really wanted to practice their English numbers with me.
We made our way back to Alaka, a journey of a thousand bumps, and rested up before our return to Addis. Okay, maybe we didn't. Maybe we partied a little too hard, which was easy to do with our incredible host Aman. One suggestion I have for anyone who travels to origin from a lower elevation: don't drink too much at higher elevations! Denver crew, you'll be fine.
Our next stop was one that I had looked forward to for quite some time. We were headed to the property of Bedhatu Jibicho, the matriarch of a coffee family living deep in coffee territory. Royal Coffee has brought her coffee in year after year, but now her family and their association of farmers is able to export their coffee for themselves due to the change in ECX policies. The fruit dried lots from single farmers in this area will now be directly exported by this group of farmers, a situation that gives them a much better return on their crop.
We had an excellent lunch (with some of the spiciest cabbage I had the entire trip) followed by freshly roasted coffee direct from the drying beds. Max met with the group of farmers, fielding questions and letting them know that our commitment to their crop remains intact. With Haile's help in translation, our mixed group of buyers and farmers parted ways with laughs and smiles.
One fellow joined us in the car ride back through Gedeb, but I didn't catch his name until we were sitting right next to each other: this was Adisu Kidane! The very same Adisu Kidane that had helped multiple roasters win awards, blessing thousands of cups with delicious coffee. As we sat next to each other, I let him know that people certainly know his name in the United States. As far as I'm concerned, this man is a rock star.
Our way back to Addis in the following days was relaxed, and the last night on the road was spent in a resort-like hotel with a view of Lake Awassa. There were foreigners and local people alike, and it seemed like the dining room was well populated with local families having a nice night out. Pleasant Ethiopian classics were being played on a piano, and we left behind the dirt of the road, plying our weary bodies with avocado juice. What a welcome respite.
The next day, we passed row after row of greenhouses that held flower production destined for markets worldwide – clearly a very large industry. Grounds for Health is a nonprofit focused on cervical cancer prevention that works with coffee farmers, but also with the people who work at these greenhouses. Royal Coffee has been working with Grounds for Health for many years, so it's interesting to see that their reach extends past coffee farmers, and into completely unrelated industries and communities.
We took an alternate road on the way back that took us closer to Mount Zuqualla, and through some very dry areas flecked with igneous outcroppings. Walls built with lava rock divided the landscape of rolling hills.
We rolled right up to BNT's dry mill, got to see more of their work on the outskirts of Addis, and visited their lab immediately afterwards to taste some of the coffees from the places we visited on our journey. This year's crop is tasting fine, and though we know that the lots will continue to get better as the season progresses, we're excited to say that we'll have more great coffees again this year.
Epilogue:
This trip offered me and everyone on the trip a glimpse of how coffee industry works in Ethiopia, and gave us a feeling for the country and its landscape. To boil our experience down to those mere words is perhaps a bit diminutive, but I'd like to think that I've written enough above to show you how much of an impression this trip made on me.
I can't speak for the others in our group, but for most of us this was our first time to Ethiopia and our first time to Africa. Visiting a new country can be a formative experience, for both one's notion of that place and for one's personal outlook. Recently, Mark Twain has been frequently quoted as saying:
     – "Travel is fatal to prejudice, bigotry, and narrow-mindedness, and many of our people need it sorely on these accounts. Broad, wholesome, charitable views of men and things cannot be acquired by vegetating in one little corner of the earth all one's lifetime."
I can only confirm that I personally have learned to take care and pay more attention to the lots of Ethiopian coffee on our cupping table, if only because I have met some of these people, seen some of their surroundings, perhaps even shared a meal with them. It is certainly a privileged position to be able to travel to these places, so I hope that I can convey as much as possible about what I saw and felt in Ethiopia through this writing.
As always, you can be sure there will be plenty to taste in the near future. Keep your eyes on the horizon during this year's late harvest; even the earliest lots are tasting fantastic. Perhaps easy to say about such a fantastic country, but always worth stating. I won't be forgetting Ethiopia any time soon.