Editor's note: A version of this article first ran on the blog in December of 2018. This year, our Sales Associate, Spencer Ford, updated the list and will be updating it throughout the season.
Even in the strangest of years in recent memory, there's at least a little comfort to the impending changing of the seasons. Here in the Bay Area, red and yellow leaves begin to dot the deciduous trees as California awaits the winter rainy season and an end to wildfires.
Mornings in the fall and winter are my favorites for sipping a hot cup of drip coffee. The steam rising from the mug and its captivating warmth add immensely to the pleasure of sipping delightful coffees, many of which are from the Southern Hemisphere and are just now landing in the US.
It can be easy to overlook these fall and winter arrivals. Mexico and Central America's proximity means short shipping times and ease of accessibility to the people growing the crop. Kenya and Ethiopia, while arriving a little later, command outsized presence in the list of coffee professionals' favorite sippers. But come December and January, these coffees might not even be available, all roasted up and brewed fresh.
While increased awareness of coffees' seasonal nature has led to overall better management of inventories for many roasters, the bounty and dependency on Northern Hemisphere American coffees landing early and often in the spring can still put a strain on winter coffers.
But why should we be hamstrung by flagging inventory from the Northern Hemisphere when there's half a world of coffees recently harvested and landing in droves at the port today? The trick needn't be buying enough Mexico to put you through to March, but instead knowing what to recommend in its absence—coffees that (if we're being perfectly frank) at this time of year taste at their peak of freshness and will add luster to an offering list and life to a year-long blend.
South America's powerhouse producer is frequently able to store and ship coffees throughout the year, but the peak of harvest ends in September, thus late-year landing Brazils are representative of the country's coffee at its best.
Brazilian coffee from Mogiana—typically earthy and nutty—or Cerrado de Minas with its dried raisin and raw cacao notes can be the backbone of an excellent traditional espresso blend and can lend body to a balanced drip blend as well.
Increasingly we see exceptionally clean coffees from Sul de Minas. Whether from estates like Rainha or Sertãozinho or cooperative coffees like those from Cocarive's Mantiqueira de Minas selections, the gently rolling hills near São Lourenço and Poços de Caldas are yielding some of the brightest and sweetest coffees in the country.
Meanwhile, far to the north and east, unique washed coffees from Espírito Santo and dry-processed coffees from smallholder and biodynamic estates in Bahia's Chapada Diamantina are landing with comparable elegance and juiciness to a natural processed Guji from Ethiopia. These hand-picked gems are some of Brazil's best-kept secrets.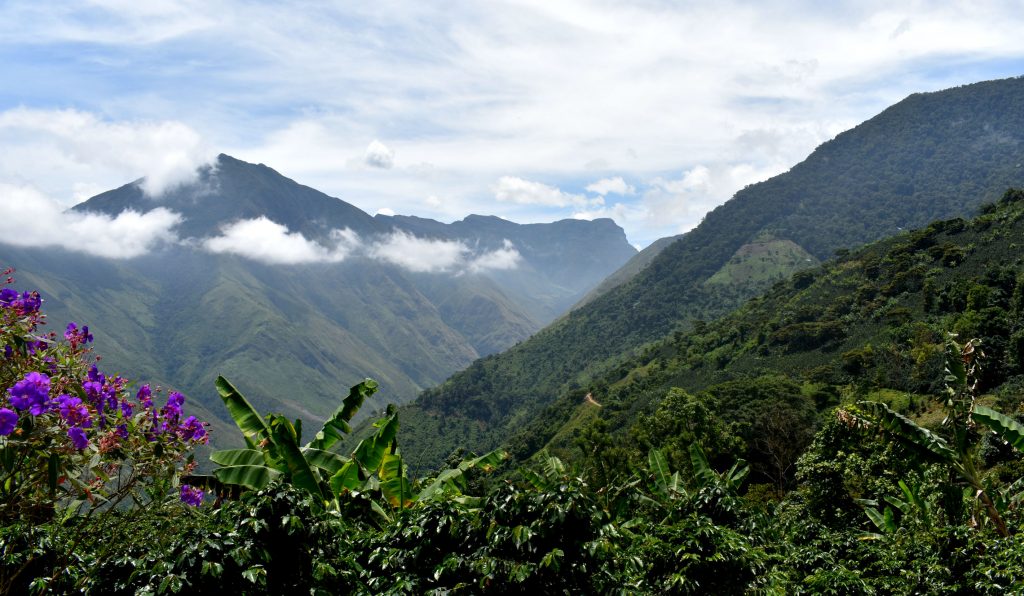 When it comes to cold-weather coffees, Colombia commands an outsized presence. Southern departments like Cauca, Nariño, and Huila unleash the main harvest of their coveted supply starting in the early fall. These coffees can be as sweet as a Sidama, as electric as a Kenya (they share similar longitude, after all), and as complex as a Costa Rica.
The great diversity within the Andean mountain ranges throughout Colombia can create wildly different flavors within relatively short distances. It's not unheard of to source a bulked blending option from a cooperative and have a single-farmer microlot from the next town down the road.
Good Colombian coffee can anchor a blend with a sturdy viscosity and chocolatey sweetness. A great one can be the cornerstone of a menu—drip or press, batch brew or pour-over, even peppered into your espresso blend (or offered as a single-origin). These are versatile and varied coffees that can turn your winter menu into a wonderland.
Vastly different in provenance, these two producing countries tend to offer high-end alternatives to lush Central American coffees in the wintertime.
In Ecuador, we've begun sourcing some highly unique and experimentally processed microlot from exceptional producers like Galo Morales Flores's award-winning Mixed Fermentation Crown Jewel. Regional bulked lots from favored locations such as Loja province, near the border with Peru, make for delicious and more cost-sensitive options in a traditionally expensive origin.
In Bolivia, we're negotiating for a number of macro and microlots, many of which carry Organic certification, and are excited about the burgeoning possibilities there. More subtle than Ecuador, Bolivian coffees tend to remind me of mild washed centrals, but don't pigeonhole the country, as there is a lot of diversity, extreme elevation, and plenty of folks who've been planting and growing cultivars like Gesha for years with great success.
Sure, you've tried the Monsooned Malabar and Mysore Nuggets, but did you know that Royal's history with the Arabidecool Estate goes back a generation, or that coffee grown in the Baba Budangari hills nearby descends from the very first plant pilfered from Yemen in the 17th century?
India's history with coffee is sometimes overlooked in modern specialty circles, but the country remains relevant in innovations in variety development and agronomy research. Coffees from the western coastal growing regions offer dense chocolate cake notes and make excellent espresso options.
Let's be honest: coffees from Indonesia are each as unique as the individual island on which they're grown. No other coffee can compete with the mossy, dusky notes of a wet-hulled Sumatra Mandheling or the herbal, earthy fragrance of a Sulawesi, or the gilded reputation of revered Toarco Jaya estate. Yet, even here one can find convenient wintertime substitutions for summer staples.
2020 may be our favorite year on record for the Indonesian islands, and Sumatra in particular. High-quality regionals and uniquely processed microlots (including naturals, honeys, and fully washed coffees) have become a staple in our well-rounded lineup from this region, long a favorite of Royal's trading team.
Moreover, coffees from Java (more frequently fully washed than neighboring islands) can have clean citrus notes layered on a backdrop of chocolate and rosemary-like flavors. An easy choice to replace single origin coffees like a Pacamara, Javanese coffees can also sub in for American island coffees like Jamaica or Hawaii, without the high price tag.
Lastly, beloved options from Bali and Flores, frequently bearing certifications like Fairtrade, Organic, and Rainforest Alliance, offer heavy, herbal, earthy options for those seeking excellent options for dark roasting and deep flavor profiles.
On the eastern half of the puzzle piece island north of Australia, coffees from estates and smallholders alike, at their best, can match a Kenyan coffee's acidity and citrus notes, with the added attraction of sweet herbal flavors. Royal has long worked with farms like Kimel, as well as smallholder groups from the Nebilyer valley, and we always celebrate a little when the floodgates open and coffees from this island nation begin to pour in. Take advantage of these offerings sooner rather than later, as their demand frequently outpaces supply, especially in banner years like this one.
Another island with split sovereignty, the eastern half of the island of Timor is also the location where robusta spontaneously crossed with arabica to create a hybrid, now used worldwide as a hearty, high-yielding, disease-resistant option. Coffees from East Timor, much like Papua New Guinea, are having an exceptional run this season, with high quality and good quantities available. Royal's Timor-Leste offerings are also certified organic and/or Fairtrade, making them excellent swap-ins for coffees from places like Honduras, where a substantial mouthfeel is matched by bold chocolate flavors, soft nuttiness and earthiness, and mild citrus acidity. Our ongoing relationship with Peace Winds has offered us Crown Jewel quality lots from producers making the extra steps to drive quality to the forefront.
You probably already knew that Peru is the world's leading supplier of organic coffee. You might not know that it's also one of the world's most geographically diverse coffee origins, a country whose Pacific coastline is longer than that of the continental United States. This makes it a prime candidate for a wide variety of applications.
An obvious substitute for soft, smooth blenders and easy-going chuggers like a Mexico Oaxaca or a central Honduran coffee, Peruvian cooperative coffees from both the North and Central growing regions slide easily into new blends. These tend to be reasonably priced and frequently carry both Fairtrade and Organic certification, and are just as warming as hot cocoa on a snowy morning.
However, we've been working to secure some unique, high-quality coffees from Peru. In the northern province of Cajamarca, small estate farms and cooperatives regularly produce top lots both in bulk and in micro-processed sizes like these Crown Jewels from David Flores Chilcon and Cesar Sampertegui. And don't forget about the remarkable producers in Central Peru, evidenced by our longstanding relationship with Finca Tasta, where Edith & Ivan Meza are producing remarkable microlots using honey process or separating single varieties.
Some of my personal favorite coffees hail from these small, but densely populated, neighbors in the heart of Africa's Great Lakes region.
Rwandas can sub into a single origin menu easily, and make excellent alternatives to both Central American and Kenyan offerings. Bright, yet soft and silky, these coffees also make exceptional espressos and contribute a lot of verve to blends in minority percentages as well. Stalwart fair trade producer Dukundekawa has long been a favorite with a classic and clean profile, while newer offerings from Kivu Lake region in the west offer wilder flavors.
Burundi coffees, particularly those from the north close to the Rwandan border like those grown in Ngozi and Kayanza, sparkle with juicy ripe fruit acidity and are absolute slayers on the cupping table. These kinds of zesty coffees are accompanied by an impressive social mission, as we've recently partnered with JNP to bring in remarkable lots which have helped empower women as part of the International Women's Coffee Alliance. Increasingly, Burundi's success with natural process coffees adds additional options for those seeking more fruitiness, perfect substitutions dry-processed Ethiopias.
If you're interested in these coffees but hesitant to pull the trigger, I'd encourage you to flip over to this article from last year. There's so much to be gained by investing in these coffees, it'd be a shame to leave them on the table.
Need help? Get in touch with us at info@royalcoffee.com.