This week in global finance, US Federal Reserve Chair Janet Yellen indicated a willingness to raise interest rates for the second time since December but also noted a need to see further strengthening in U.S. economic indicators. Despite nearing Federal Reserve targets for employment and inflation, the U.S. economy had mixed data in the first half of the year. The Fed's remarks sparked a rally in US dollar while forcing stock markets lower. In Brazil, suspended President Dilma Roussef begins her impeachment trial before the Senate, with the Brazilian Real recovering to BRL 3.27. A lack of coffee fundamental news left the C market to rely on first notice day and technical indicators for guidance, and pricing overall gained $0.0325 since last week. Happy Friday.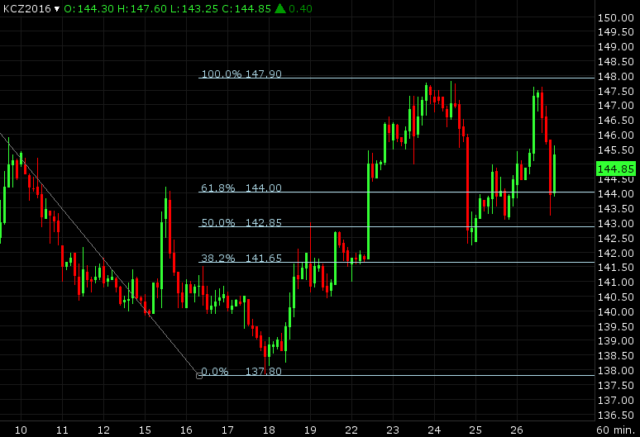 C market trading started with a bang this week, with Monday's session marking a firm rally as traders closed out September contracts and moved into December. Open interest, the number of active contracts in the market, declined by nearly 3,000 since last Friday and indicates more closing out of long positions as speculators take profit on the C's slight gains. The hourly chart above shows the market failing against the $1.4790 resistance (also the high of trading activity on 8/8), yet refusing to return to $1.40. The $1.4790 level is now the price to beat for the market to reassert its steady ascent, with a short term look to $1.4155 as the floor.
Despite repeating a familiar cycle of speculative trading this week, the market continues to bump upward, slowly trending higher out of the lower 30% of average pricing in the last five years. A firm trend channel and confirmation along RSI/DMI lines make a strong technical case for rising C pricing, and the market will need significant fundamental news or macroeconomic influence to redirect itself to the $1.20 levels.