This week in global finance, U.S. stock markets dropped at the end of a tepid week on expectations of a slow increase to interest rates from the Fed, marking a lull in the S&P 500's march to record highs this year. Oil posted a steady recovery over the last week, supported by a weak US dollar and mild expectations for OPEC members to agree to limit production, though speculation between now and the OPEC summit at the end of September will continue to influence short-term pricing. The US dollar finally managed a timid recovery after five days of devaluation, weighing on most commodities' price action today, while the Brazilian real and Colombian peso both backtracked to BRL 3.204 and COP 2,886 respectively. Happy Friday.
Typically a recovery in US dollar valuation would be enough to trip up the C market, however today's performance brushed off the macroeconomic factors to close the day with a minimal gain. The last two days of trading were marked by speculative profit taking, with open interest dropping two thousand lots over the extent of the recent $0.035 bounce and technical indicators showing an opportunity to the upside with RSI at 49.57 (indicating that the market is neither overbought nor oversold) and DMI flattening to almost parity (indicating that the market could continue to build upwards but without violence).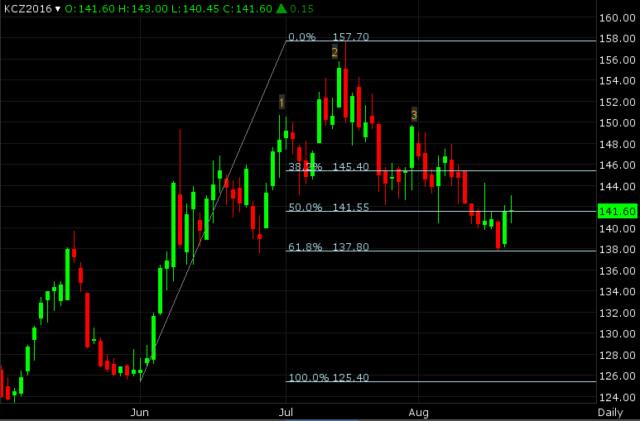 The weekly chart above shows a completion of the head and shoulders formation described in the last blog entry (shoulders denoted with a "1" and "3", head marked with a "2"). Lacking further clarity in the shape of a chart formation, the market rebounded from the near-term floor of $1.3780. Today's close situates the market in almost the exact middle of the Fibonacci retracement, and considering the RSI/DMI readings mentioned previously, the technical perspective leaves room in both directions. Since June, the C market has ambled to the upside, climbing from $1.2645 on 6/1 to $1.4160 today, and for the moment pricing appears willing to continue probing higher. Next week will require the market to move convincingly in the $1.42-$1.58 range to re-establish itself in this higher tier, or flop below $1.3780 to drip back to the $1.20s.