Printer Friendly PDF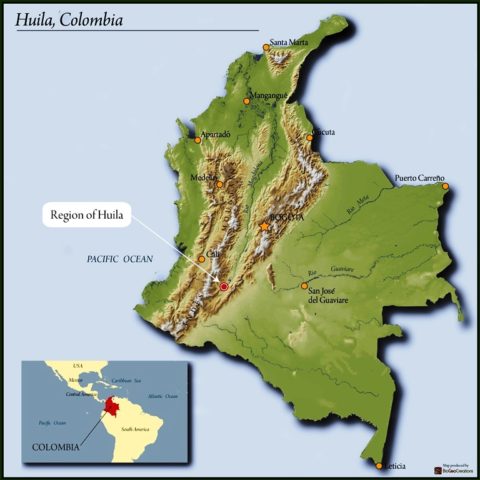 Origin Information
Grower
Jhoner Tomas Acosta | Finca La Guadua
Region
Los Pinos, Palestina Municipality, Huila Department, Colombia
Harvest
January (70%) April to June (30%)
Background Details
Jhoner
 Tomas Acosta manages a 3-hectare farm 
along with a multi-generational household that consists of his parents, his brothers, 
and his own wife and their three children. The farm, Finca La 
Guadua
, 
includes 1 hectare reserved solely for the cultivation of Bourbon
—
once a 
staple variety throughout Latin America's 
coffeelands
 but that is now harder and harder to find outside of Brazil
. 
Johner
 and his family are members in the prominent 
Cooperativa
Departamental
 de 
Caficultores
 de Huil
a
 (CADEFIHUILA)
, 
a 
Huila-based 
cooperative more than 
50 years old with 4,000 members and over 50 purchasing locations in the small department.
Pink Bourbon is a mutation of the red Bourbon, a centuries-old heirloom that was once a staple variety for most of Latin America. In the past 15 years, however, mainly due to disease and climate change, Bourbon has become a minority variety everywhere in Latin America save for Brazil. As a result the variety has become harder to find and typically only produced in microlot quantities. So with pure Bourbon at such a scarcity, you can imagine the value of a lot like this: not only is it a pure Bourbon, but it is a regionally specific lineage of the variety brought to market only recently. The unique pink pigmentation of the fruit, and what many agree is a distinctly delicious personality in the cup, is a southern Huila anomaly. With more growers propagating it and with a little marketing on their side, Pink Bourbon has become its own unique brand. Royal has carried a number of Pink Bourbon microlots over the past few years and they are indeed unique to the region. La Guadua's lot this harvest is bright and refreshing with a particular marshmallow sweetness, ripe red berries, sweet baking spice, tropical fruits, and brisk eucalyptus. 
Huila is arguably Colombia's best-known department for top microlots. Huila's geographical accessibility, dense population of knowledgeable farmers, warm and subtropical forests, high elevations, and microclimate diversity have for many years sustained one of specialty coffee's most beloved regions. Huila is a long and narrow valley that follows a winding gap between two large cords of the Andes. Uphill from the valley's lush and picturesque lower slopes (Colombia's 950-mile long Magdalena river has its source in southern Huila and has shaped the agriculture here for centuries) are a diverse array of coffee producing communities, often dramatically steep, and each with their own unique climate and history. Palestina is one such community, located just beyond the southern end of Huila's central valley, in a rugged and densely tropical landscape. The region is part of a gateway to a national park called "Cuevas de los Guacharos" (cueva being the word for "cave" and the Guacharo being a large, fruit-eating bird).
At La Guadua harvest is managed entirely by the extended family. Ripe cherry is picked by hand, washed clean and sorted for imperfections, and then, in a unique custom step, allowed to ferment in cherry for 20 hours in plastic bags to allow sugars to further peak inside the fruit, and for the mucilage to begin to break down—something often referred to as "anaerobic" due to the blockage of oxygen during the process. After this first stage, the coffee is depulped and fermented in tanks for 48 hours, and finally washed clean with fresh water. Drying takes place in solar driers with translucent canopies to protect the parchment from the hot high-elevation sun and occasional rain showers. The farm is typically harvesting 70% of its coffee between October and January, and 30% from April to June, meaning there are only a few months per year when coffee is not ready to be picked. This split harvest is unique to only a few countries on Earth, and yet another reason why southern Huila coffees, regardless of the variety, are almost too good to be true.