Printer Friendly PDF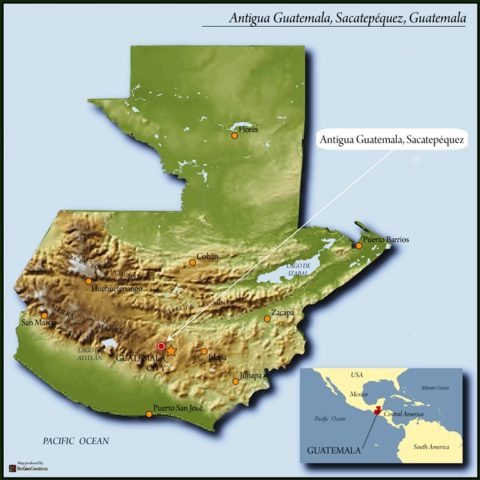 Origin Information
Grower
Finca Covadonga & Finca Guadalupe
Variety
Bourbon, Typica, and Caturra
Region
Antigua Guatemala, Sacatepéquez Department, Guatemala
Process
Fully washed and dried in the sun
Background Details
The city of Antigua is in many ways a modern coffee Eden. It's iconic, laid back, gorgeously ornate, and for a city of its size it is absolutely teeming with historic coffee infrastructure. Coffee from most of the Sacatepéquez department is known simply as "Antigua", and their sugar profiles range from butterscotch to marzipan sweetness, and acids from lemonade-like piquancy to dessert wine or tangy dried fruit. 
Guatemala's best centralized wet mills and best boutique exporters are based in Antigua. There are thousands of farms in the area, from the city's legacy estates to patchwork smallholder communities climbing most of the way up Volcán de Agua, one of three looming stratovolcanoes that seem to be visible from every street corner in town and play a large part in Antigua's famous soil composition. Such a variety of producers begets coffees with endless combinations of microclimates, elevations and varieties. There is a lot to work with here, and a lot of talent.
Los Volcanes is a tight-knit processing and exporting team who expertise in agronomy and processing is interwoven throughout Guatemala, thanks to their many years of experience as cuppers, roasters, exporters, relationship managers, and educators. Indeed, the name "Los Volcanes" appears on a wide variety of coffees Royal imports each year. The founding team at Los Volcanes is known for breaking down a single farm's harvest into hundreds of data points (compost formulas, genetics, shade variance, picking rates, fermentation times and temperatures, drying styles, and on and on) and re-building custom-tailored harvesting systems for farm managers based on their experience and cupping acumen.  Naturally, over time, Los Volcanes began to co-manage farms with their supplier partners. Finally, a few years ago they took over the operation of a large-scale wet mill outside of Antigua, complete with adjacent coffee farm, and moved their headquarters there from Guatemala City. They now centrally process cherry from dozens of select farms and smallholder communities, bringing their fermentation precision to an unprecedented scale, and building incredibly delicious, affordable macro lots that present refined terroirs and consistent preparation. 
This coffee is a hyper-selective blend of cherry from 2 local Antigua estates developed by Los Volcanes: Finca Covadonga is a 45 hectare farm located in San Juan del Obispo between 1650 – 1700 meters and whose bourbon and typica cherry is included here; Finca La Guadalupe is in nearby Santa Maria de Jesús, is a 130 hectare farm between 1700-1950 meters, and whose caturra is contributed to the final blend. Both San Juan del Obispo and Santa Maria de Jesús are located on the northeast slope of Antigua's Volcan de Agua and very close to Los Volcanes' central wet mill. Both farms are close conspirators with Los Volcanes and have facilitated compost experiments and other plant nutrition application programs, whose results are now being shared throughout Los Volcanes' farmer network. 
Cherry from these two farms is delivered daily throughout harvest, sorted for uniformity, depulped, and fermented for up to 48 hours in a covered, temperature-controlled warehouse of ceramic tanks. Los Volcanes employs dedicated processing managers to specifically oversee the bulk fermentations. These local experts are calibrated by a combination of temperature and smell to manage precise degrees of development and maintain consistency across batches of various volumes, temperatures, and humidity levels. After fermentation is complete, parchment is passed through a pressurized water siphon for cleaning and density grading, and then dried on the site's large patio or in mechanical dryers. All centrally processed lots are sampled and cupped extensively so they can be profiled by sensory attributes and combined to present very precise final profiles. This lot, the first of the year produced by this combination of farms, is decadent and refined with chocolate, honey and buttercream flavors, as well as bright ripe raspberry and brisk grapefruit zest. We look forward to much more coffee like this in the future.