Publisher's note: Despite the default impression of Brazil as being dominated by large, mechanized farms, about half of the country's coffee farmers are small, family-managed operations who process at home and sell to local growers' organizations to earn their living. This is the story of the Croce Family and FAF – their Fazenda Ambiental Fortaleza, or "Environmental Fortress Farm". Please check out our fresh crop FAF coffees. 
The Croce family came back to Brazil in 2001. After escaping Brazil's economic crisis of the 1980s, the family spent almost 20 years working and living in the United States. They imported Brazilian products for dollar store retailers in the Midwest; they got comfortable raising their kids in American schools.  
Then, Silvia Barretto, the family matriarch, discovered she was to inherit the family coffee estate. They suddenly faced the prospect of returning to São Paulo and assuming management of the family's multi-generation property: a 2,000-acre farm outside of Mococa with 150-year-old buildings and a failing coffee plantation, known as "Fazenda Fortaleza"—the Fortress Farm. Silvia was an adamant environmentalist who had for years distanced herself from Brazil's mono-cropped, chemical-laden farming practices. So, suddenly, she was faced with an ultimatum. The Croces had periodically visited over their years abroad and knew what they faced: in their words, "the farm had gone from soil to dirt. If this was going to work, we had to set about turning the dirt back into soil."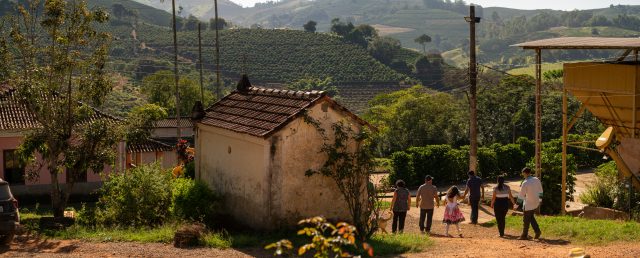 Silvia, along with Marcos Croce and their kids, decided the farm would be the family's next chapter together. 2,000 acres (about 800 hectares) in Brazil is considered "medium" in size, but to the Croce family, as measure of their values, it was a liability. They slashed coffee out of 75% of it and rented the vacant land to grazers, sugar, and corn growers, and allowed parts of it to return, with their assistance, to native canopy. The remaining 25%, 500 hectares, was further subdivided into various projects, empirically testing the land's resilience: they planted their own milk cow pasture and bought livestock, planted vegetables and fruits, re-forested some parts, and allowed others to overgrow naturally. And they added one prophetic word to the farm name: "Fazenda Ambiental Fortaleza"—Environmental Fortress Farm. "FAF". 
What remained of the coffee was, for Brazil standards, a measly 32 hectares. An almost invisible amount. This was even further subdivided into organic sub-strategies: certain plots considered "passive", in which companion plants and canopies were left un-impeded to both feed and compete with young coffee trees for sunlight and water; others were "active", in that they were weeded and subsidized using organic certified inputs.  
The result of course was disastrous for the coffee. The abrupt termination of chemical inputs put the plants into shock and production screeched to a halt. Marcos rounded up the aggrieved farm managers and, instead of a severance, offered a full 50% equity of all the coffee they planted. This was another shock, but one that encouraged their staff to buy into the dream. The Croces, by this point a few years into the transformation, began to think beyond the farm's borders. The watershed that contains the farm, they realized, links their fate to the farms around them, since the same water flowed through them all. A stand of old-growth forest on a corner of their property became a research destination for plant husbandry, and the 1,000-year-old tree in the midst of it was a sacred refuge of inspiration.  
In 2007, Marcos and Silvia exported their first container of coffee to the United States. In 2008, FAF won the sustainability award from the Specialty Coffee Association of America. Roasters started noticing their family's efforts and positioning themselves for the still very limited quantities available each year. These first blended lots were sold under a new brand: Bob-O-Link, after a migratory bird of the Americas that became a kind of spirit animal for the Croces, having migrated its precise path themselves as a family, and who now sent coffee along that path as well.  
Felipe Croce, Marcos and Silvia's son, moved back to Brazil himself in 2009. Felipe was young, but had worked at Kaldi's Coffee, a specialty roaster-retailer based in St. Louis, and brought with him substantial experience with specialty consumers and roaster logistics. Felipe became the first Croce family member to live full-time on the farm, setting up a cupping room in one of the old farmworker houses and dissecting the family's young organic coffee production by every variable he knew of. Silvia and Marcos had transformed the land and the mindset of the staff, and Felipe would be the empiricist to determine how unique their coffees could be.  
Felipe's determination was to negate the default treatment of Brazil's coffee in roasteries as perfunctory. He was bothered by what he perceived to be a different set of rules that applied to Brazil's coffee, which he thought hypocritical of specialty values—that it should be cheap, and that expectations were low. The Cup of Excellence had started in Brazil in 1999, and the partnership of the Brazil Specialty Coffee Association (BSCA) was a critical alliance for the spread of the event and the discovery mindset that drove cuppers from around the world to participate. And still, along with his parents, he saw Brazil as suffering from a commodity mindset.  
As he traveled, he met with processors in Panama and Colombia, and continued visiting the United States, and the more he learned the surer he was that there was simply no reason Brazil could not produce microlots on the same level. The family continued to work, installing raised screen beds and canopies to control the fermentation, and drying of naturals, planting experimental cultivars and companion plants, and focusing on regenerative practices throughout. 
2009 was the year when the reputation of their efforts preceded themselves. As the "crazy famers" of the area, they started receiving curious visitors. One of the first, João Hamilton, worked at a farm smaller than the Croce's, in nearby mountainous Caconde; since the farm began in 1979, it had known only commodity production. As the story goes, João was despondent, angry, and ashamed, on the verge of quitting the whole business, which he called an "agriculture of death" that was careless of future generations. "After a few years in this system, no matter how much we poisoned the plants, we were no longer able to have a considerable production, in addition to destroying the mountain's soil." João was eager for a new perspective and took the Croce's journey to heart. "That's when we started taking care of the soil and water, treating sewage and planting trees around the springs. We started to separate plots and varieties, make selective harvesting and drying in a suspended terrace, giving a special quality to the coffees. With this quality in the drink, we realized the dream of being sustainable in the mountains." João's own neighbors, all 5-20 hectare farmers like himself, began visiting him to decipher his newfound approach, and the movement began to spread.  
João's neighbors across the watershed began contributing coffee, and a satellite microlot community farming in sync with FAF began taking shape. Small, highly selective raised bed naturals from FAF and João began creating a market for themselves abroad. Coffees during these first years could only be milled in a neighbor's barn near FAF at night, as the local dry mills simply refused to accommodate lots so small. But the approach was working: the quality and specificity of the coffees themselves surpassed the expectations of most roasters. And the farmers learned to think of their coffee as a beverage for pleasure, rather than a grain to be sold as a commodity. They found themselves becoming more competitive, and far more appreciative of what they were able to produce. The combination of quality in the cup and quality of the land were fused together among this group, into one mantra: "total quality." 
Spending time with Silvia, Marcos, and Felipe is a little like standing on the edge of a dream vortex. You can feel their gravity pulling you in, you can see the world as they see it on the other side. You find yourself nodding along as they describe the "party" that they're throwing in 100 years (Marcos and Silvia are in their 60s) where everyone will drink clean water together surrounded by chirping birds. Their view of Brazil's future is Edenic, and it is effective. They are winning over more farms every year.  
FAF now works with over 350 producers, most of them families on 2 to 30 hectares, whose combined coffee fills about 70 containers. There are contributing farmers throughout Alto Mogiana, the area in eastern São Paulo state where FAF and Caconde are located, as well as in Minas Gerais, and Caparaó, a rugged Andean-like region on the border of Minas Gerais and Espírito Santo states. FAF, the original farm, is now a full-time testing ground for regenerative farm models and varietal studies, as well as a central quality command center in service of participating producers.  
João's community by now has built an entire centralized processing site on the ridge top, known as Serra do Cigano, or "Gypsy Hill". Buyers can visit the watershed and enter house after house where João and others are making pourovers of their own coffee, separated by cultivar, roasted at home, and brewed to SCA standard using filtered water and a scale. The coffee is phenomenal by any standard; and it's hard to separate the deliciousness of the cup from the stories of redemption that everyone is eager to tell. The vortex pulls you in. 
Coffee is business. There is risk, there is a real market with real attitudes. But coffee is also lots of individual histories and perspectives that require nothing more than the right audience to thrive. One irony of Brazil sourcing is the tendency to think simplistically about such a vast landscape—2 million hectares of coffee, of which the FAF growers represent roughly 1/20 of one percent—when it should really be the opposite. As FAF likes to say, the "other Brazil" is out there, and its growing. 
 Interested in our FAF coffees? You can check out fresh crop arrivals here.