Printer Friendly PDF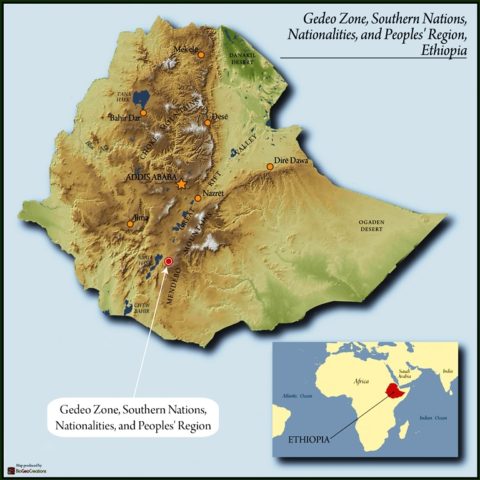 Origin Information
Grower
1750 farmers organized around Ardent Coffee
Variety
Indigenous landraces and local heirloom cultivars
Region
Gedeb woreda, Gedeo Zone, Southern Nations, Nationalities, and People's Region, Ethiopia
Harvest
November - January
Process
Full natural and dried on raised beds
Background Details
The district of Gedeb takes up the south-eastern corner of Ethiopia's Gedeo Zone—a narrow section of plateau dense with savvy farmers whose coffee is known as "Yirgacheffe", after the zone's most famous district. Gedeb, however, is a terroir, history, and community all its own that merits unique designation in our eyes. Coffees from this community, much closer to Guji than the rest of Yirgacheffe, are often the most explosive cup profiles we see from anywhere in Ethiopia. Naturals tend to have perfume-like volatiles, and fully washed lots are often sparklingly clean and fruit candy-like in structure.
The municipality of Gedeb itself is a is a bustling outpost that links commerce between the Guji and Gedeo Zones, with an expansive network of processing stations who buy cherry from across zone borders. These processors (and we would agree) would argue their coffee profiles are not exactly Yirgacheffe, but something of their own. The communities surrounding Gedeb reach some of the highest growing elevations for coffee in the world and are a truly enchanting part of the long drive into Guji. 
This lot is a blend of coffee processed at two different stations located in Chelchele, one of Gedeb's best-known coffee communities, and managed by Ardent Coffee. Ardent is a young processor and exporter founded by Ashenafi Argaw, a former director of the Sidama Coffee Farmers Cooperative Union (SCFCU), and who now uses his extensive connections throughout southern Ethiopia to lease processing station time for his own personal coffees.
The sites used for this coffee accept cherry from 1750 farmers across the Shantawene, Bombe, and Hamasho communities in central Bensa. Along with coffee, farmers in this area commonly grow avocado and 
enset
—a fruit-less relative of the banana tree whose pulp is scraped and packed into cakes, fermented underground, and then sliced and toasted as 
kocho
, a staple starch. 
This particular coffee is essentially a procedurally perfect late-harvest natural process. Under the instruction of Ashenafi, cherry is brought to the processing site within no more than 8 hours of picking, inspected, floated for density, and then drained. After the cherry fermentation step, all fruit is shade-dried as a typical natural, spread into a single layer on raised beds for the first 60 hours to allow for even drying of the outer cherry skin. After skin drying, the coffee will be piled 2-3 cherries deep for the remainder of the drying stage, during which Ashenafi assigns one full-time manager to each individual drying bed, to oversee cherry rotation and monitor the drying progression. Fully-dried cherry is then rested for 4 weeks in fresh GrainPro bags prior to final dry milling, to allow for moisture equilibration and for flavors to continue to deepen.