Printer Friendly PDF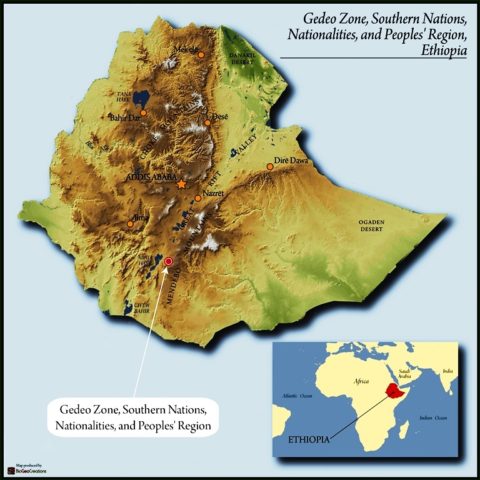 Origin Information
Variety
Indigenous landraces and local heirloom cultivars
Region
Woreda, Gedeo Zone, Southern Nations, Nationalities, and Peoples' Region
Process
Fully washed and dried on raised beds
Background Details
The district of Gedeb takes up the south-eastern corner of Ethiopia's Gedeo Zone—a narrow section of plateau dense with savvy farmers whose coffee is known as "Yirgacheffe", after the zone's most famous district. Gedeb, however, is a terroir, history, and community all its own that merits unique designation in our eyes. Coffees from this community, much closer to Guji Zone than the rest of Yirgacheffe, are often the most explosive cup profiles we see from anywhere in Ethiopia. Naturals tend to have perfume-like volatiles, and fully washed lots are often sparklingly clean and fruit candy-like in structure.
The city of Gedeb itself is a is a bustling outpost that links commerce between the Guji and Gedeo Zones, and its outskirts include an expansive network of processing stations who buy cherry from across zone borders. These processors would argue (and we would agree) their coffee profiles are not exactly Yirgacheffe, but something of their own. The communities surrounding Gedeb reach some of the highest growing elevations for coffee in the world and are a truly enchanting part of the long drive into Guji. 
While 0.5 hectares is the regional average for coffee cultivation, Gedeb also has a handful of larger individual farms who, thanks to increasingly supportive exporting laws, are finding their way into the international market. Yohanis Deyaso is one of these farms. His 50-hectare estate in Gedeb is a culmination of a lifetime spent in the coffee business himself, and one that not only supports his extended family, but also provides employment and investment to his immediate community in Gedeb.
At Yohanis' estate, fresh picked cherry is first floated for ripeness and then depulped and floated once again to further sort the fresh parchment coffee by density prior to fermentation. Once sorting is complete the parchment is fermented underwater for 18-24 hours depending on the volume of coffee and the climate conditions of the day. Once fully fermented and washed clean, parchment is moved to raised drying beds to dry until the parchment reaches the desired 10-12% moisture content. Yohanis prioritizes careful storage of dried coffee, understanding the right conditioning can lead to the best expression of a coffee's potential in the cup. So, the warehouse on his property is climate conditioned and parchment is stored in clean jute bags arranged in order to allow for maximum air circulation.
Yohanis is working toward organic certification.