We're sorry, but this item is sold out. Try one of our similar offerings:
Printer Friendly PDF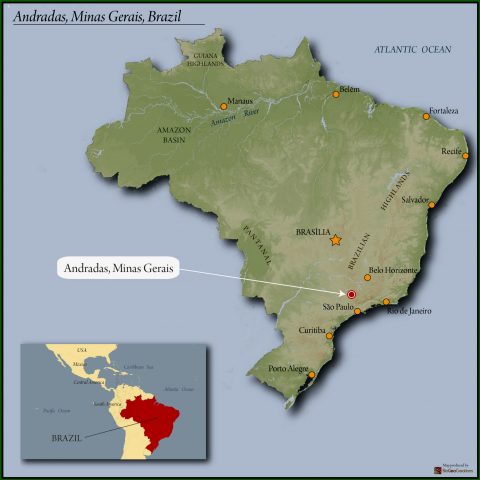 Origin Information
Grower
Fazenda Santa Clara
Variety
Catuai, Icatu, Mundo Novo, and Tupi Vermelho
Region
Andradas, Sul de Minas, Brazil
Process
Full Natural and dried in the sun
Background Details
BRAZIL ORGANIC FAZENDA SANTA CLARA is sourced from Fazenda Santa Clara, a 130-acre farm located in the municipality of Andradas within the state of Minas Gerais, Brazil. Santa Clara was founded by the Bassi family, an Italian immigrant family in 1930. The land was initially used to farm grapes and years later it was transformed to farm coffee. Since 1999, management of Fazenda Santa Clara has been passed down to Paulo Teixeira Giordani. Paulo decided to convert the farm to an organic coffee farm. Paulo who is an agronomist and is using his coffee knowledge to implement organic and biodynamic practices to improve the quality and high yield production of coffee at Fazenda Santa Clara. His success in the production of organic coffee has made Paulo a promoter of the organic movement of coffee production and as a result a coffee expert in Andradas. Fazenda Santa Clara has serve as an inspiration for local farmers who can learn from the success of an organic and high production farm.