Printer Friendly PDF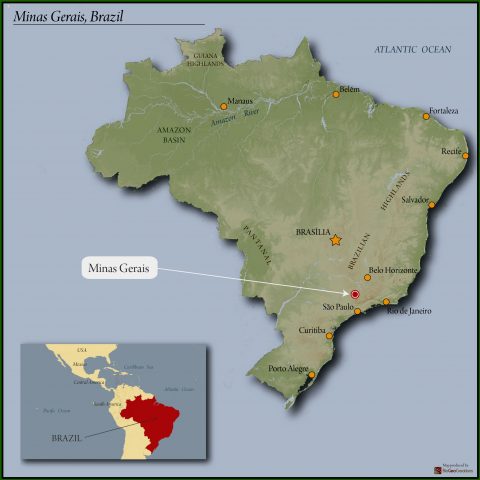 Origin Information
Grower
Matheus Gomes Aguiar Rezende & Larissa Gomes Aguiar Rezende
Region
Perdizes city, Cerrado region, Minas Gerais state, Brazil
Background Details
Minas Gerais is the largest of the three major Brazilian coffee growing states and accounts for 50 percent of the country's production. Much of the territory within Minas Gerais is part of Brazil's
cerrado
region, a vast and diverse tropical highland savannah comprising more than 20% of Brazil's total land mass and extending small amounts into nearby Paraguay and Bolivia. The region has a long history of agriculture, mining and in more recently, cash-cropping. Waves of European settlers aggressively transformed large portions of Brazil's cerrado over many generations of colonial development, beginning with sugar cane and then quickly favoring coffee as consumption grew across the global north. Once a slave plantation economy, Brazil's coffee production underwent cycles of booms and busts with a bad reputation for quality among consumers during its industrialization period. In the past 30 years, however, Brazil has made clear to the global coffee industry that its history has led to what is now easily the planet's most modern coffee farming culture, with world-class agronomic research and post-harvest technology that accommodates huge scale, as well as exemplary farmworker labor protections and high minimum wages for pickers. 
In specialty coffee, "Cerrado" is now used as a terroir distinction, referring to coffees produced in the cerrado territory of northwestern Minas Gerais state. (The country actually designated this sub-region Brazil's first ever Protected Geographical Indication, in 2005, which now markets coffees under the "Cerrado Mineiro" title as a certified Designation of Origin.) This part of Minas Gerais boasts generally enormous farms by global standards with high levels of mechanization and technology, and typically mild cup profiles. There is ample supply of generic coffee from Cerrado, much of which performs as foundational blenders in coffees sold all over the world. There is also, as in any producing region, a number of outlier producers and cup qualities to be found.
Fazenda Recanto is one such outlier for this part of Minas Gerais. Located near the city of Perdizes, the estate is only 5 years old and already certified organic, and for its region it can be considered miniscule: only 46 hectares large, with only 32 hectares planted in coffee. Recanto is part of a larger agricultural firm, the Saquarema Agrícola Cerrado Group, which for the past 20 years has been investing in sustainable agricultural projects, including the preservation of native forests, developing biodiverse farms and regenerating timber stands, as well as helping regional warehouses become organic certified so that exportable coffee can find the right market.
 Recanto produces both pulped-natural (i.e. honey process) coffees and full naturals. This particular lot is a unique natural process peaberry, which Recanto was not planning to sell until we identified it as cupping deliciously next to their standard preparation. Peaberries are not typically marketed in Brazil and can therefore be overlooked as a potential product by farmers and millers, however, as is often the case in Kenya or Tanzania, countries with established peaberry exports, the specificity of the screen size often yields very focused, clear cups with lovely delicate mouthfeels. This particular lot, which was picked with a combination of hand-harvesting and machine and then greenhouse-dried, does have a subtle specialness to it compared to Recanto's other coffees: cups are clean and creamy, with a sugary flan-like sweetness and a hint of brightness resembling fresh blackberry juice.