Printer Friendly PDF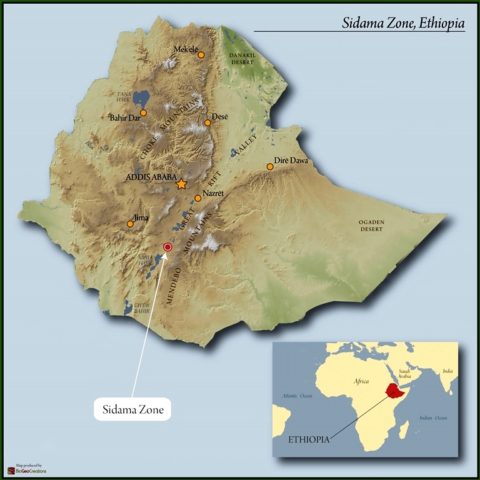 Origin Information
Variety
74118, 74110, and 74158
Region
Bombe municipality, Bensa district, Sidama Zone, Southern Nations, Nationalities and People's Region (SNNPR), Ethiopia
Harvest
November - January
Process
Whole cherry fermentation and dried on raised beds as a full natural
Background Details
Coffee in Sidama tends to be earlier than in Gedeo (Yirgacheffe) or Guji zones, and thanks to the robust presence of the Sidama Coffee Farmers Cooperative Union and standardized washed processing across its more than 50 cooperatives, the vast majority of it is fully washed. As a result, Sidama coffee is often sought after for its delicate fruits, herbaceousness and buoyant citric acid, versatility, and its ready availability in the early spring.
But that is certainly not all that Sidama has to offer. More and more we are seeing younger producer groups set themselves up outside the union infrastructure and offer new, more cutting edge coffees into the market. This particular coffee comes from a single 35-hectare estate owned by Faysel Abdosh. Faysel purchased the property in 2020 and immediately set to work dialing in processing systems he felt best suited the farm's high elevation and selective cultivars. The resulting lot, one of the first ever produced, busts Sidama coffee norms for three big reasons. First, it comes from a private estate managed entirely by Faysel from tree to export. Next, the coffee is naturally processed, which is rare for Sidama. Finally, the coffee is a Grade 1, meaning the cup quality and physical preparation is the best that Ethiopia certifies, something especially difficult to achieve.
Faysel's farm is in the Bensa district, in far eastern Sidama Zone, on the outskirts of the Harenna Forest National Park. Faysel oversees a business team of 15 year round, and a crew of 150 during harvest and processing. Faysel exports coffee via Testi Coffee, a private exporter who represents a number of processors in Eastern Sidama, whose coffees are always among the most exquisite we taste all year.
This particular lot was processed using a unique cherry fermentation step prior to drying. Faysel uses a particular blend of cherry ripeness, combining 85 % fully-ripe, 10% over-ripe, and 5% under-ripe cherry together for processing, so as to balance sugars and acids in the final lot. Once fresh-picked cherry is blended to spec and floated to remove all low density coffee, the cherry is allowed to rest submerged underwater for 8 hours, which Faysel believes helps to initiate sugar breakdown inside the cherry and sweeten the final coffee. After the soaking is complete, cherry is laid out to dry on shaded raised beds at a depth of 5cm, where they are constantly rotated for 28 days.