Printer Friendly PDF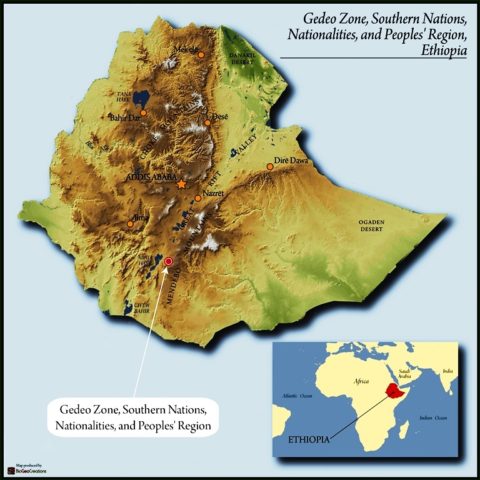 Origin Information
Grower
850 producers organized around the Halo Bariti processing station
Variety
Wolisho, Dega (local landraces), 74110 & 74158 (regional cultivars)
Region
Halo Bariti Kabele, Gedeb Woreda, Gedeo Zone, Southern Nations, Nationalities, and Peoples' Region
Harvest
January - February
Process
Fully washed and dried on raised beds
Background Details
The district of Gedeb takes up the south-eastern corner of Ethiopia's Gedeo Zone—a narrow section of plateau dense with savvy farmers whose coffee is known as "Yirgacheffe", after the zone's most famous district. Gedeb, however, is a terroir, history, and community all its own that merits unique designation in our eyes. Coffees from this community, much closer to Guji Zone than the rest of Yirgacheffe, are often the most explosive cup profiles we see from anywhere in Ethiopia. Naturals tend to have perfume-like volatiles, and fully washed lots are often sparklingly clean and fruit candy-like in structure.
The municipality of Gedeb itself is a is a bustling outpost that links commerce between the Guji and Gedeo Zones, with an expansive network of processing stations who buy cherry from across zone borders. These processors (and we would agree) would argue their coffee profiles are not exactly Yirgacheffe, but something of their own. The communities surrounding Gedeb reach some of the highest growing elevations for coffee in the world and are a truly enchanting part of the long drive into Guji. Halo Bariti is one of the communities East of Gedeb and includes cooperative members that are cooperative-affiliated, as well independent processing stations of various types, many of which are simply named "Halo Bariti" after the town itself. 
This particular processing station is owned by Boledu Industries PLC. The entire station occupies only 0.55 hectares of land and processes coffee. For its first few years of operation the station processed coffee from local cherry aggregators, until the Boledu family felt they had processing fundamentals and infrastructure in place, including things like planting specific trees to serve as windbreakers during harvest season. Today, however, the station is processing both fully washed and sundried natural, purchased directly from over 1200 individual farmers in total, making the Boledus' Halo Bariti station a strong part of the local community. 
Farmers in this area average less than 2 hectares per household and in addition to coffee cultivate avocado, soy beans, sugar cane, and 
enset
, a fruitless relative of the banana tree whose inner pulp is scraped, packed into cakes, fermented undergound, and then toasted and consumed as a staple starch. Washed coffee at Halo Bariti is depulped and fermented for 48-76 hours depending on local climate conditions and then dried on raised beds for up to 3 weeks, during which the parchment is rotated constantly to ensure even drying and prevent uneven moisture buildup.