Editor's note: In researching Crown Jewel information, our team will frequently reach out to producers to gather additional facts or inquire about the particulars of a relationship, processing type, or harvesting scenario. Rarely do responses come along as engaging and far-reaching as the multi-part email installment I received from Alfred Klein, owner of Finca San Carlos near Mexico's southern border in the state of Chiapas. In his own words below you'll find the incredible story of his family, his farm, and the persistent challenges of cultivating coffee.
This is the third installation in this series; catch up on Part I & Part II. If you care to learn more about the coffee Sr. Klein produces, we recently featured it as a Crown Jewel and blogged a bit about it, too. His coffees are also available in 69kg bags.
Prize-Winning Premiums
The year 2002, at SCAA Expo in Anaheim, San Carlos won 2nd place in the Best Mexican coffee competition during the event at the cupping trials. It felt good and it was really nice to see black over white the result of years of effort. After that, we got some calls from interested buyers and roasters which at the end brought no results, commercially speaking, but it definitely made us want to export directly. The opportunity was there and the obvious buyer was Royal taking in account the existing relationship.
We had previous contracts signed locally for the incoming crop, so we had no coffee to sell that year to Royal.
"Prices were around $0.60/lb and a premium of 10 or 15 cents over the NY "C" for excellent prize-winning coffee was not even good enough for covering the export costs."
The production cost was close to twice that year´s selling price, so we could only trail along doing the best of the field works possible and hoping for no climatic disaster. I have to say that very little fertilizer was used during those bad years and almost no renovations or replantings were economically possible, but the plantation endured and we could manage to maintain production at reasonable levels.
During 2003, we started our long-lasting commercial relationship with Royal. At first Mr. Hotzen's daughter kindly interceded and negotiated some of the deals; we were granted pre-payments against future deliveries that kept us, so to say, in the business. Prices seemed to be recovering (at $0.70/lb hahaha!) but the situation was yet very somber. We did our first direct exportation to Royal during March or April 2004, and as I can recall, everything went very well… but still no money was left to cover the already expired payments to Hotzen's family.
The fact that the ongoing situation even with sustained production would not permit the payments to be fulfilled provoked the Hotzen family to again consider regaining control over San Carlos.
"At that terrible point in time I felt to be standing aside and watching everything happen through a sort of veil."
I have memories of watching myself through that same veil and had the certainty that nobody else could see me. Not that I was losing my senses, it was just the total absence of faith in what I had achieved and everything I had endured, my dreams, decisions, points of view were suddenly dead letter and part of the past.
Dreams, Deferred
Against all logic and common sense, I accepted to become the manager of San Carlos; Mrs. Hotzen became the legal owner and the boss. I would go on with the usual obligations as we agreed to keep the new order between us to avoid all sort of speculations and chatter, I had to report to Germany frequently and all cash flow came through an accountant. For strangers, all looked like business as usual. Many things changed though.
"Only my profound love for that little patch of earth made me go on."
We started 2004 with a new-old administration. Bringing back the farm to high yield path was the primary idea, so I got into generating a lot of the information and paperwork I was asked for like, statistics, costs, annual production info, investments, and so on. We agreed to work on a monthly budget based on monthly needs.
Coffee prices started to climb again during 2004 and the financial support was there, even though some basic and very important items such as replanting or renovating overaged areas did not receive the asked attention. Fertilization was another issue mainly unattended due to the continuous rise of the prices. I informed the Hotzen family that at our current pace we would be paying the consequences soon. Twice that year I had so to speak "visits" from Germany, and I had to pull myself together in order not loose my temper in various occasions. At the end we could work out our differences.
Dog Days
I guess by then much of the financing we needed came from Royal as I was told that some contracts had been signed. That year we had a drop of around 15% in production but we covered all pending contracts.
Starting 2005, my major interest was to recover the lost production. Blooming season was good, and with the right amount of rain at the right moment we were all happy. I struggled hard that year to get the authorization for two general fertilizations, the second one being done usually during September/October. Again I had a visit from Germany, together with Mr. Otto, who stayed some weeks. Sadly I heard him say that it would be the last time, as travelling had become a difficult task for him.
"The day he departed we held hands and looking at each we both knew it was forever."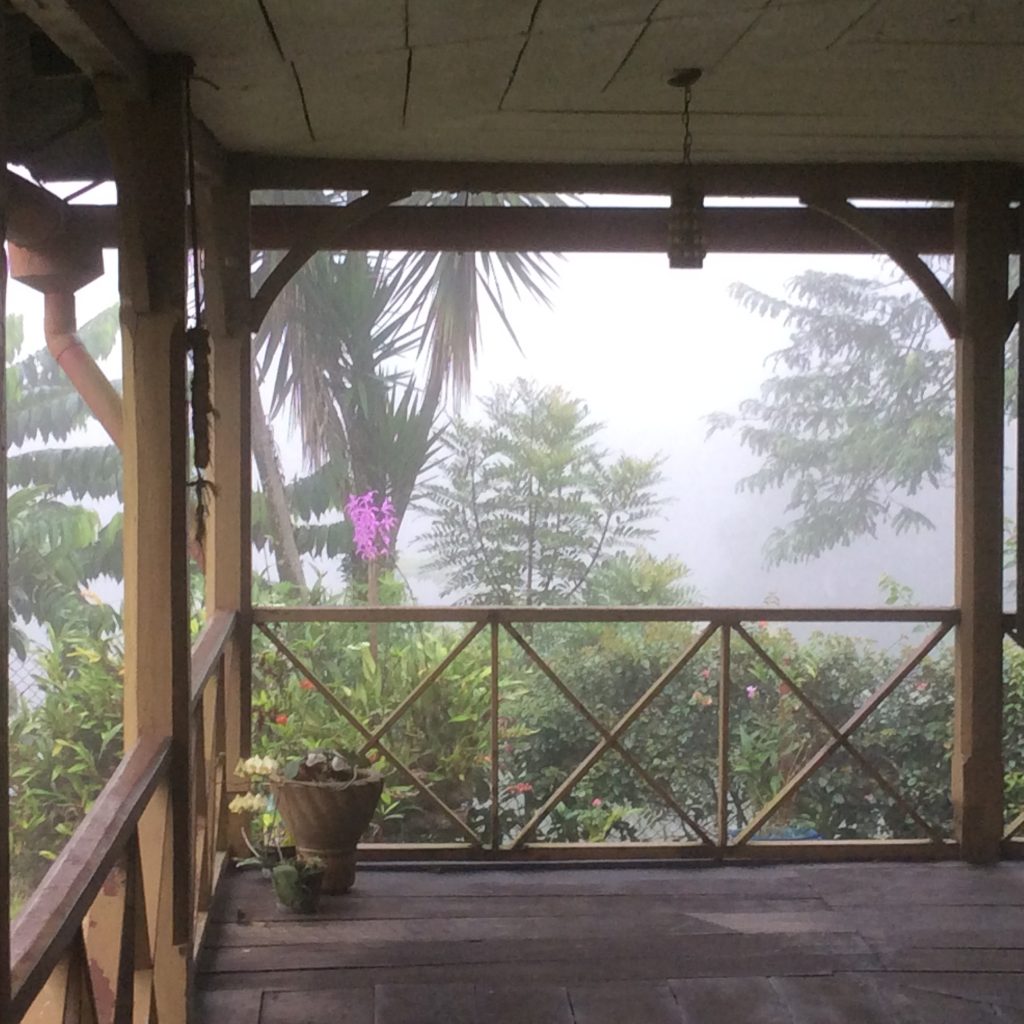 Climate had been so-to-say normal that year, but the talk was about a La Niña year. The "canicula" ["dog days"] a normal dry spell within the rainy season, had been severe and in late August big storms started to form in the Pacific.
Then, on September 15, the night of Mexican Independence Day celebrations, a huge rock of more than 20 tons in weight came tumbling down the slope loosened by some days of heavy rains and blocked our only access road. All needed goods had to be carried by workers 1 km to San Carlos. We hoped that soon bad weather would give us a break in order to either blow the rock in pieces or try to trace a new road, but none of this happened.
On the first of October, Hurricane Stan was on the route to Chiapas, and having already caused havoc in Guatemala, we expected the worst. I had been in town to get enough supplies for some weeks, the truck was loaded full but heavy rain kept me from leaving. On the afternoon of October 2nd the outer layers of Stan were over us. The next two days we received almost 2000 mm of rain; roads had already been blocked by landslides and bridges had collapsed all over. The whole Pan-American Highway along the Chiapas coast was interrupted on many points. Electricity went out and cellphone servers failed, stores had been emptied by panicked buyers, gas stations dispatched only 10 liters per vehicle, cashiers were empty, banks and the majority of the businesses closed.
I had no chance of knowing what had happened at San Carlos, nor a way to inform to Hotzen family in Germany. On the 5th October Stan decided to dissipate suddenly and during the afternoon as I definitely prepared for leaving by any means, my second hand and some workers appeared at the door. They had walked for many hours and brought devastating news… the only good part being that nobody was missing or hurt.
To be continued…