As we reflect on the past year, we are privileged to be honored with a Sprudgie nomination for best new cafe. We hope you'll take a minute and vote for us. While operating a Tasting Room is part of our mission to provide an open source coffee educational facility, it is not the sole goal. We are proud and thrilled to be recognized for our effort.
The other part of our open source ethos is achieved through our programming – our classes, workshops, open-to-the-public tasting room, and all the other events we put on at The Crown. But a large part of the story is the physical space that houses all of the activities of The Crown. Thanks to the architects, builders, contractors, and designers who built this space we are able to offer a one of a kind coffee experience for the industry and coffee drinkers alike.
We challenged our Architect of Record, Norman Sanchez, and our interior architect, Brett Terpeluk of Studio Terpeluk, to create a space that would stand the test of time. We brought on Northern Sun to be our general contractor to bring our collective vision to light. We worked with local artists and builders in the Bay Area to pay homage to the city we love including a curated Gallery along the full length of our building.
Our design-forward coffee space utilizes a Nanawall system; a tornado-proof movable glass wall system housed by a superstructure that supports the shape-shifting nature of our entire building. The use of glass in the space is twofold: allowing guests to see the journey green coffee takes from the roaster to the Tasting Room, and representing the transparency we are bringing to the industry.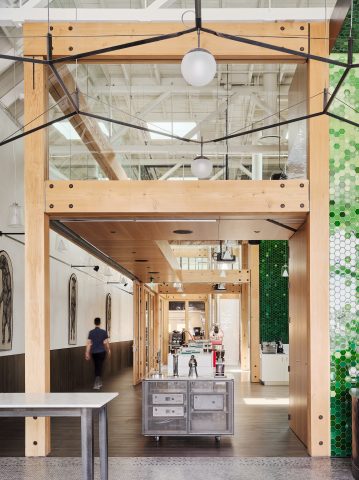 The space can be both one large building or four independently operating rooms: Tasting Room, Presentation Room, Brew Lab, and Roasting Lab. The main feature is our custom, hand-glazed, made-in-the-USA green tile mosaic wall spanning half the space. Its goal is to transport guests to coffee forests around the globe without saying a word.
We tasked local artist Joseph Chambers with creating a one-of-a-kind, shape-shifting bar to greet guests in our space. The bar consists of eight interlocking and freestanding blackened steel carts. Nearly everything in the building is modular, including our custom cupping carts and espresso carts built by Shada Designs. The units receive their power, water, electricity, and drainage from custom floor boxes scattered throughout the space.
If you want to learn more about this incredible design and build, check out our interviews with Architect of Record Norman Sanchez, Design Architect Studio Terpeluk, General Contractor Northern Sun, the Designer of the Modular Coffee Bar, Naga Joe Chambers and Cupping Carts Builder Shada Designs.
To take a really dive deep into the brilliance of our architectural team, take a listen to Episode 09 of The Crown Podcast.