Let's spend an afternoon roasting coffee on some fun, unique small batch machines!
Using three very different types of coffee roasters, we'll take some of our favorite Crown Jewels through the roasting process and taste the results together. Not only will the class involve a lot of hands-on time with each roaster, we'll also be tasting the results and comparing the divergent types of heat transfers.
Crown staff will be on hand to answer questions and advise while you explore the possibilities offered on these micro-machines:
Ikawa Pro – the darling of the digital age, this Bluetooth hot air roaster uses precision technology for temperature curve programs. The free mobile app allows you to store your roast data and share profiles with friends and colleagues. A dream machine from the future!
Behmor – the entry-level radiant heat home roaster, making it easy for literally anyone to roast coffee with impressive results. We use this little beauty every week for our Crown Jewels, and its results speak for themselves.
Probat Sample Roaster – the gold standard for multi-roasting, this professional device remains the preferred method for sample evaluation. Its unique combination of gas heat and airflow make it a powerful tool for precision roasting.
They say big things come in small packages. Now you can try them out for yourself!
About The Crown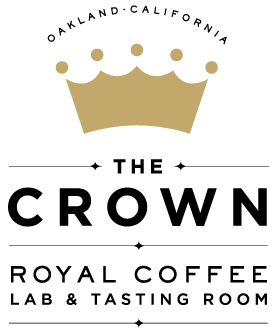 The Crown is an open-source coffee education center, laboratory, event space, and tasting room, celebrating the importance of Oakland to the international coffee community and its history. An incubator of ideas and promoter of experimentation across the entire supply chain, The Crown is inclusive, transparent, and collaborative.
Set to open in 2018, The Crown will have five key components: Tasting Room, Presentation Space & Cupping Lab, Brewing Lab, Roasting Lab & Event Space. Crown Jewels will be featured and served within the soon to be opened tasting room coupled with Crown Analyses; roasting and brewing recommendations currently available online. The Crown is located at 2523 Broadway, Oakland, CA 94612.
About the Instructors
Evan Gilman is, amongst other things, a photographer, musician in a Balinese gamelan, a baker and a brewer, and a licensed Q Grader. He joins The Crown after extensive travel throughout Indonesia, work as a trainer for Blue Bottle Coffee Company, and 15 years in the coffee industry.
Jen Apodaca started roasting coffee in 2005 for McMenamins Inc. in Portland, Oregon. She has roasted coffee for Ecco Caffe, Intelligentsia Coffee & Tea, and Blue Bottle Coffee. She is now the Director of Roasting for The Crown; Royal Coffee Lab & Tasting Room. She has experience on several styles of roasting machines and is dedicated to the craft of making coffee more delicious. She serves as Vice Chair of the SCAA's Roaster's Guild Executive Council, is a certified Q-Grader, is the Chair Emeritus of the Coffee Committee of the Good Food Awards and has been an international juror for the Cup of Excellence.
Chris Kornman is a seasoned coffee quality specialist, avid writer and researcher, and the Lab & Education Manager at The Crown: Royal Coffee Lab & Tasting Room. Formerly a QC manager, cupper, educator, green coffee buyer, and roaster at Intelligentsia under the guidance of Geoff Watts, Chris logged thousands of miles across the coffee lands in East Africa and Brazil. His passion for coffee and education has led him to speaking opportunities at Anacafé in Guatemala City, Roasters Guild Sensory Summit at UC Davis, as part of the Academic Agenda for the Café de Colombia Expo in Bogotá, and in front of humming roasters and slurping coffee tasters worldwide.
Graciously Hosted by