Intro to Cupping is a course designed for coffee enthusiasts and professionals with some tasting experience who are ready to take their cupping skills to the next level.
The curriculum includes
a guided tasting through parts of World Coffee Research's Sensory Lexicon and the SCA Flavor Wheel
a focus on primary sensory defects including Mold, Phenol, Quakers, Ferment, and Potato
a detailed reference for setting up and excecuting a great cupping in a professional environment
a thorough discussion and dedicated practice of the SCA cupping form for scoring purposes
While every coffee lab evaluates coffees their own way, there are also a guiding set of standards that help professionals taste and communicate effectively with others in the industry. Students taking this class will be better prepared to engage in common practices and have meaningful discussions about the coffees they taste.
Students will walk away from the class with
a better understanding of common flavor descriptors, and recipes to recreate the Sensory lexicon
the skills to identify primary sensory defects and denote them appropriately
an intimate understanding of scoring practices and the industry's standard cup scoring mechanism
the ability to participate in as well as set up and accomplish professional cuppings
digital documents related to the coursework
Taught by Sandra Elisa Loofbourow & Chris Kornman of Royal Coffee in anticipation of the opening of The Crown: Royal Coffee Lab & Tasting Room.
About The Crown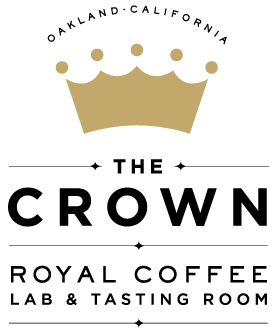 The Crown is an open-source coffee education center, laboratory, event space, and tasting room, celebrating the importance of Oakland to the international coffee community and its history. An incubator of ideas and promoter of experimentation across the entire supply chain, The Crown is inclusive, transparent, and collaborative.
Set to open in 2018, The Crown will have five key components: Tasting Room, Presentation Space & Cupping Lab, Brewing Lab, Roasting Lab & Event Space. Crown Jewels will be featured and served within the soon to be opened tasting room coupled with Crown Analyses; roasting and brewing recommendations currently available online. The Crown is located at 2523 Broadway, Oakland, CA 94612.
About the Instructors
Sandra Elisa Loofbourow is the Tasting Room Director at The Crown: Royal Coffee Lab & Tasting Room. Her experience as a Spanish/English Interpreter, working in kitchens, and teaching Argentine Tango all influence and inform her approach to coffee. Sandra has been a barista, roaster, and green buyer for several companies in the Bay Area. She's a certified Q Grader, and at Royal she does brew experimentation, coffee analysis, and creates inventive drinks. She'll be heading up the Tasting Room at the Crown in Uptown Oakland, serving fascinating coffees and delicious education to consumers and professionals alike.
Chris Kornman is a seasoned coffee quality specialist, avid writer and researcher, and the Lab & Education Manager at The Crown: Royal Coffee Lab & Tasting Room. Formerly a QC manager, cupper, educator, green coffee buyer, and roaster at Intelligentsia under the guidance of Geoff Watts, Chris logged thousands of miles across the coffee lands in East Africa and Brazil. His passion for coffee and education has led him to speaking opportunities at Anacafé in Guatemala City, Roasters Guild Sensory Summit at UC Davis, as part of the Academic Agenda for the Café de Colombia Expo in Bogotá, and in front of humming roasters and slurping coffee tasters worldwide.
Graciously Hosted by