Join us for a flight of hand-crafted coffee concoctions and a whirlwind tour of the often-overlooked corners of coffee history, followed by a happy hour.
Much has been said about the story of coffee; its myths and legends often intermingle with facts to create a lovingly painted, but not wholeheartedly truthful picture. We think that coffee's story is worth telling, both with deep affection for the arch of the narrative, and enduring respect for the truth of its impact on each of the lives it touches. We'd like to explore a little about why the roasted seed of a fruit, cultivated in such diverse conditions, holds such a beloved place in our memories and daily routines.
Tasting flights include both traditional and innovative preparations from around the globe to accompany the discussion, and you'll most certainly come away having tried something you've never even heard of before.
We are pleased to be partnered with Amethyst coffee for use of their beautiful cafe.
Discussion and Tasting will be followed by a happy hour with sponsored beer & wine, included in the cost of admission.
About The Crown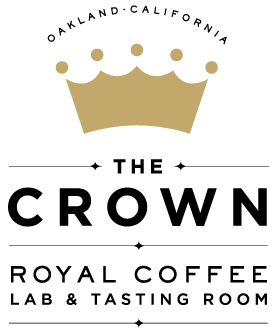 The Crown is an open-source coffee education center, laboratory, event space, and tasting room, celebrating the importance of Oakland to the international coffee community and its history. An incubator of ideas and promoter of experimentation across the entire supply chain, The Crown is inclusive, transparent, and collaborative.
Set to open in 2018, The Crown will have five key components: Tasting Room, Presentation Space & Cupping Lab, Brewing Lab, Roasting Lab & Event Space. Crown Jewels will be featured and served within the soon to be opened tasting room coupled with Crown Analyses; roasting and brewing recommendations currently available online. The Crown is located at 2523 Broadway, Oakland, CA 94612.
About the Instructors
Sandra Elisa Loofbourow is the Tasting Room Director at The Crown: Royal Coffee Lab & Tasting Room. Her experience working as a Spanish/English Interpreter, working in kitchens, and teaching Argentine Tango all influence and inform her approach to coffee. Sandra has been a barista, roaster, and green buyer for several companies in the Bay Area. She's a certified Q Grader, and at Royal she does brew experimentation, coffee analysis, and creates inventive drinks. She'll be heading up the Tasting Room at the Crown in Uptown Oakland, serving fascinating coffees and delicious education to consumers and professionals alike.
Chris Kornman is a seasoned coffee quality specialist, avid writer and researcher, and the Lab & Education Manager at The Crown: Royal Coffee Lab & Tasting Room. Formerly a QC manager, cupper, educator, green coffee buyer, and roaster at Intelligentsia under the guidance of Geoff Watts, Chris logged thousands of miles across the coffee lands in East Africa and Brazil. His passion for coffee and education has led him to speaking opportunities at Anacafé in Guatemala City, Roasters Guild Sensory Summit at UC Davis, as part of the Academic Agenda for the Café de Colombia Expo in Bogotá, and in front of humming roasters and slurping coffee tasters worldwide.
Graciously Hosted by