Advanced Sensory Exercises is a training session including tasting lessons designed to improve the skills of more experienced coffee tasters in a controlled but comfortable environment
Together we'll practice triangulations (coffee tasting where the evaluator must identify the one of three cups which is not like the other) and taste organic acids both in isolation and added to coffees. The course will involve both interactive tastings and a brief overview of the relevance of certain acid types to coffee flavor and some tricks and tips to help avoid common sensory pitfalls. We'll also practice subtle differences of combination and concentration in the Sensory Skills exam (sweet, salty, and sour).
The course is modeled after industry standard examinations, and will provide valuable practice to those seeking various types of certifications. It will also increase your ability to identify problem coffees in a formal evaluation setting and help you to expertly consider the broad range of influences on a coffee's flavor profile.
Taught by Chris Kornman of Royal Coffee in anticipation of the opening of The Crown: Royal Coffee Lab & Tasting Room.
About the Instructor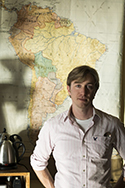 Chris Kornman, Education & Lab Manager, Royal Coffee, Inc.
Chris is a seasoned coffee quality specialist, avid writer and researcher, and the Lab & Education Manager at The Crown: Royal Coffee Lab & Tasting Room. Formerly a QC manager, cupper, educator, green coffee buyer, and roaster at Intelligentsia under the guidance of Geoff Watts, Chris logged thousands of miles across the coffee lands in East Africa and Brazil. His passion for coffee and education has led him to speaking opportunities at Anacafé in Guatemala City, Roasters Guild Sensory Summit at UC Davis, as part of the Academic Agenda for the Café de Colombia Expo in Bogotá, and in front of humming roasters and slurping coffee tasters worldwide. On weekends, Chris can be found helping at his partner's Improv Theater in Oakland. He rides a 1986 Schwinn Prelude and plays banjo and trumpet.
FAQs
What are my transportation/parking options for getting to and from the event?
Parking is extremely limited. Here are some resources for getting the most out of your visit to The Crown, from parking to nearby culinary delights.